The electrification and decarbonization of residential and commercial heating and cooling systems is an enormous challenge. In North America, nearly 70% of all the energy we use in our buildings and homes is just for heating, cooling, and hot water.
An array of conventional products supply our needs: boilers, furnaces, heat pumps, and air conditioners. The main drivers shifting the focus of the technology landscape onto renewable energy are climate change, evolving policy, and energy costs.
Innovia GEO (CleanTech Open, 2022 applications due April 17th) is focused on developing innovative geothermal heating and cooling technologies to efficiently and cost-effectively decarbonize the heating and cooling of our buildings and homes.
Innovia's technological breakthroughs in geothermal began with the assembly of an amazing team of cross-functional experts in the various fields their innovation would intersect– stretching all the way from world-leading geothermal researchers to folks with more than 30 years of experience in the nitty and gritty of the construction sector. 
Geothermal is a technology that reaches across traditional engineering and skilled trades disciplines, so a diverse team like the one they've assembled was mission-critical to successfully improve the technology from head to tail.
Geothermal systems are an extremely effective tool to propel buildings farther along the path to reaching their sustainability goals. For every unit of electricity used to run a geothermal HVAC system, about four units of useable heating or cooling energy is moved into a building. So, geothermal systems give 4x the bang for your buck when it comes to optimizing an edifice's energy efficiency. 
As the 2021 Cleantech Open Northeast Regional Winner and Winner of the People's Choice Award, startup co-founders Andrew Lee (President) and Jim Ilkay (Director) have driven Innovia Geo's success to exciting heights. With their academic collaborator Dr. Seth Dworkin, Professor of Mechanical & Industrial Engineering at Ryerson University, the three years spent designing their shallow-drilling geothermal system has paid off gaining a lot of traction.
How Innovia GEO harnesses all the heat beneath our feet
Innovia GEO is innovating how geothermal systems are installed by developing solutions for softer and shallower grounds. Their first product at the MVP stage is GEOPiles, which integrates the geothermal system directly into the steel foundation piles of a building, piggybacking off the infrastructure already going into the ground to dramatically reduce the cost of installing a geothermal system. 
Their other products under development repurpose techniques used in the foundation construction industry to install geothermal systems at speeds 2x–5x faster than conventional methods. Innovia's goal is to reduce the cost of installing a clean and efficient geothermal system in half so that the payback can be less than 5 years.
Conventional geothermal drilling has been unviable for widespread adoption because of the high cost of drilling up to 850 feet deep underground into bedrock. In contrast, the ground temperature of soft soil is stable all year round, so you can get the same geothermal heating and cooling resource at 30 feet deep as 500 feet deep. Innovia's technologies work by enabling access to the same geothermal heating and cooling resource at only 50 feet to 100 feet deep.
For an average new residential unit in the US, Innovia's geothermal technologies can save six MWh per year in energy and reduce annual GHG emissions by 800 kg CO2e. For an average new commercial unit in the US, their geothermal technologies can save 92 MWh per year in energy and reduce annual GHG emissions by 12,400 kg CO2e.
Here's a look at Innovia's three products designed to optimize their geothermal solution for both residential and commercial buildings.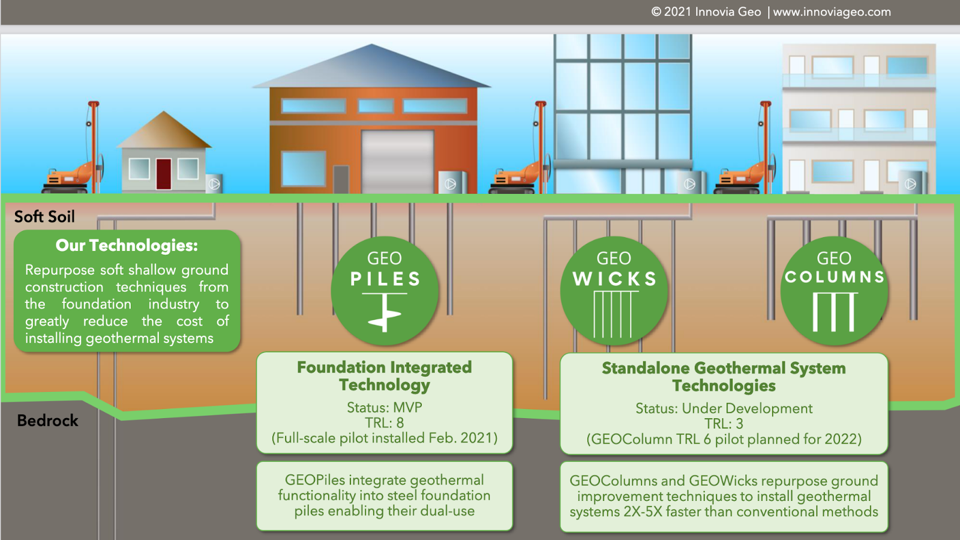 How Innovia GEO's value differentiates them from the competition
Innovia's geothermal drilling method and heat pump technology enable them to provide a better-faster-cheaper, 100% renewable, and emission-free product. 
There is an enormous need for accessible, cost-effective HVAC systems. Geothermal systems are an extremely effective tool to propel buildings farther along the path to reaching their sustainability goals. For every unit of electricity used to run a geothermal HVAC system, about four units of useable heating or cooling energy is moved into a building. So, a geothermal system gives 4x the bang for your buck when it comes to optimizing a building's energy efficiency.
The heating and cooling market is highly fragmented and populated with both isolated and integrated systems to treat commercial, industrial, and household air and water. 
HVAC systems are designed to meet all heating, ventilation, and air conditioning needs. While their overall environmental harm has plummeted since the transition away from CFCs in the 1990s, underlying issues the energy source of all established technologies still aggravates the industry. Dependence on hydrocarbon-derived electricity is a familiar pain point with an omnipresent prickle felt across all industries.  
Space and water heating are currently dominated by typical fossil fuel-fired boilers and furnaces, while space cooling is dominated by air-based cooling systems like air-conditioners. These systems are low in cost to install but are less efficient compared to heat pumps, which are the primary combustion-free alternative available. 
Air-source heat pumps operate by moving heat to the outside air or ground to efficiently heat and cool a building. The key difference between air-source and geothermal is that geothermal heat pumps move heat using the stable temperature of the ground rather than the fluctuating outside air, making geothermal systems the most energy-efficient HVAC system available.
However, geothermal systems have a high upfront cost because they involve drilling and installing plastic pipes 250 to 850 feet deep underground, where a fluid is circulated to move heat resulting in typical paybacks of more than 10 years. In the past, where high nonrenewable energy costs and sustainability concerns were not strong factors in defining value, these considerations were a huge barrier to geothermal growth in the HVAC market.
The US New Building HVAC market is worth approximately $26 billion per year. Market drivers include: 
The implementation of more rigorous regulations for emissions.

Growing public and private sector investments toward geothermal renewable energy–including the

oil and gas industry

.

General realignment of public opinion and motivation to reduce dependency on fossil fuels

Ever-growing energy demands 
Innovia's initial target market is new low-rise and mid-rise buildings and homes, including new single-family home subdivisions.
In the building sector, there's been a definite shift in the market over the last year where energy and emission targets are really starting to drive openness amongst the building development industry to look at alternative HVAC systems. Innovia's thoughts on this are: "We think the future looks very promising for geothermal systems since they are another local source of renewable energy to compliment wind and solar that can help a building get toward net-zero."
Currently, municipal and state-level energy and emissions targets are driving the change toward more energy-efficient buildings. Many of the jurisdictions adopting formal energy and emissions targets have set 2030 as a target for new buildings to be net-zero. With existing buildings, there's less consistency for target dates to reduce all of their emissions, but most have set a target of 2050 at the latest. 
The enactment of similar sustainability targets by large corporations enacting is also leading to an expansion in the market. Innovia's hope is that future targets will only be more aggressive to help accelerate the decarbonization of heating and cooling in the building sector.
In the near future, Innovia's aim is to have all three of their products, GeoPiles, GeoWicks, and GeoColumns fully available to the North American market to help developers get their buildings to net-zero. In 10 years' time, they want the default HVAC choice of any building to be geothermal.
Just half a decade ago, geothermal energy was presented as simply another type of renewable energy option that existed, but that presented little opportunity for further commercialization in the US. Innovia presents the HVAC market with a highly intelligent, efficient geothermal system with an undeniable wealth of opportunity for scale. 
Innovia's innovative geothermal solutions make the investment into crucial renewable energy infrastructure less intimidating than previous models. With dramatically reduced unit cost and clean technology, their heat pumps are a highly attractive option from a payback and emissions standpoint. 
In Innovia's eyes, success will only be achieved when every building, new and old, is net-zero.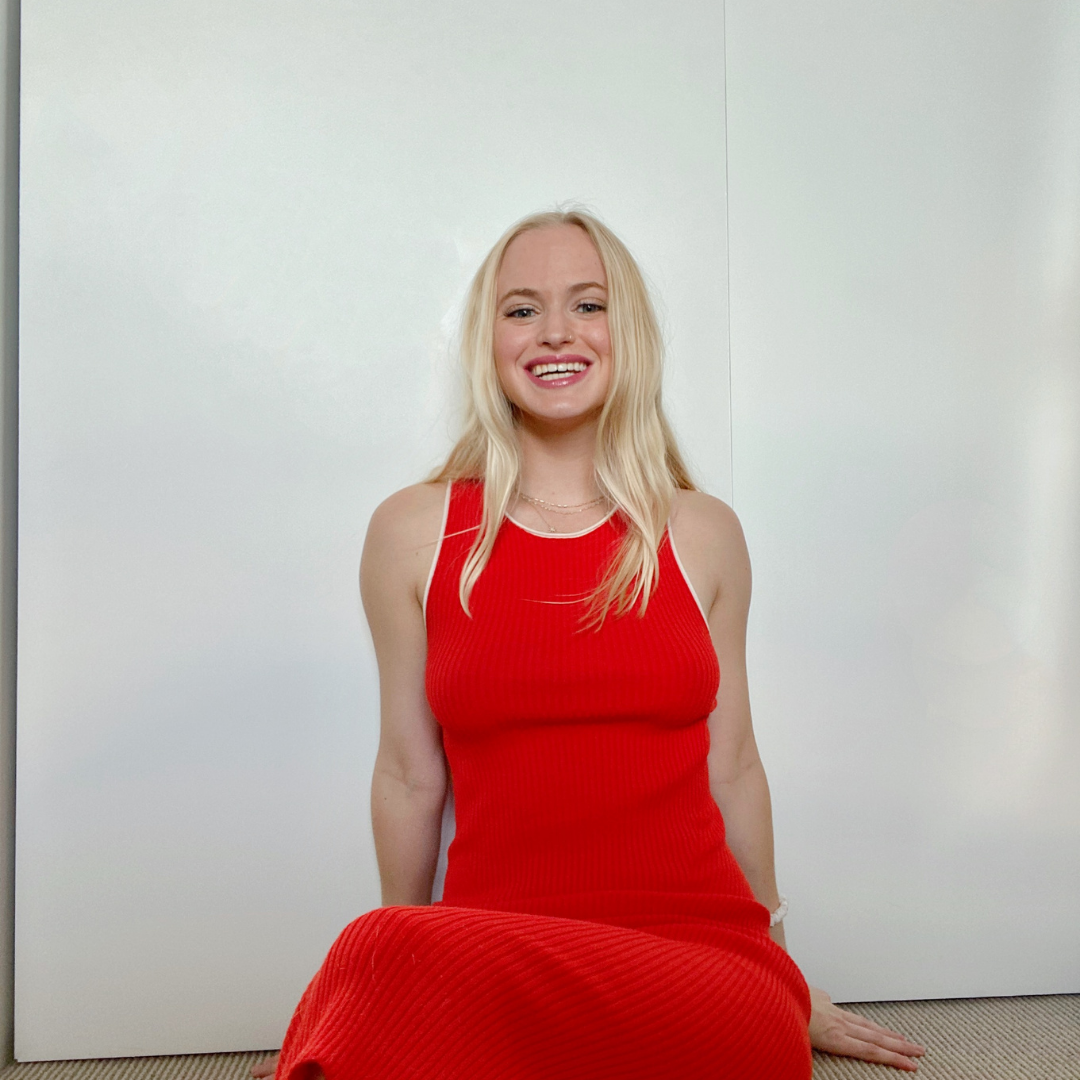 Partner • Editor-in-Chief @ The Impact
Stephanie holds a BBA in Supply & Value Chain Management and in Entrepreneurship & Innovation from TCU (Go Frogs!!) and minored in both Energy and History because… why not. After a stint in LA working in lean manufacturing for a large industrial company, her most recent educational foray was as a part of the LEAP program at Boston University to explore the field of Material Science & Engineering. Stephanie's most recent work has been volunteering with a small DAC startup in Reykjavik called Carbon Iceland. Now, she's living the dream working in supply chain as a Procurement Analyst at the carbon capture company, LanzaTech. An aspiring tree hugger, she hopes to spend the rest of her career aiding the massive societal transition to cleaner industrial and business practices– ideally through work pertaining to carbon capture, sequestration, and the processes' byproduct utilization to unite her love of science, sustainability, business, and supply chain. In her free time she enjoys both the American and English versions of football, growing her working knowledge of plant cultivation, and reading.