🤔 If you're watching March Madness… It may feel like Saint-Peters run was magical (they got bumped last night) but what's more magical is the run we are on to save the climate. Our odds are slim, just like Saint-Peters' odds were…but if that run taught us anything, it's possible if we believe and show up.
– Stephanie Zulman & Swarnav S Pujari
PS. It is hugely helpful if you forward this email to a friend and let them know where they can subscribe (hint: it's here).
EV Chargers are needed to meet the growing EV demand
Quick Service Restaurants (QSRs) are trying to recover from the pandemic, looking for new customers, reducing their costs and increasing their revenue
ChargeNet connects a Project Financier with a QSR to build solar-powered EV charging stations on the parking lot of the QSR
Takachar is geared towards remote, rural communities, with a focus on India
The small-scale and portable systems are able to serve farmers and utilities who might face logistical hurdles with more centralized operations
Soil productivity gains of 20-30% are a major driver for sales.
SJF Ventures invests in high-growth companies creating a healthier, smarter and cleaner future
SJF invests in companies with both financial and impact returns, without compromise
Ecotone sustainably processes food waste by recapturing revenue and nutrients that would otherwise be lost and reintroducing them back into the food system
Ecotone's technology produces no waste and it is a self-contained apparatus that requires no power or water hookups
Would You Like A Quick Charge With Your Taco Bell Order? • ChargeNet
By Swarnav S Pujari • is the Head of Growth at Gaiascope and Appointed Chairman of the Yorktown Climate Smart Communities Task Force - and has extensive growth, product and policy experience across the climate sector.
ChargeNet provides services to finance, construct, and supply the software necessary for QSRs to deliver fast, solar-powered EV charging stations on their parking lots to cater to EV-driving customers. Helping QSRs develop this service enables them to have extra income by selling clean electricity to their customers, reducing their electricity bills, and attracting new customers to their restaurants.

ChargeNet's idea comes from Tosh Dutt, Rebecca Wolkoff and A.K. 'Venus' Jenkins. Tosh and Rebecca worked together in California at Enel X, an Italian energy specialist. They have years of experience in the energy, utility, software, tech start-up, legal, and financial fields.

Check out and subscribe to our Youtube Channel for future episodes!
Takachar: A Win-Win For Farmers And Air Quality In Rural India
By Christina Zhou • is a sales operations & enablement professional interested in streamlining our path to a more sustainable future.
Takachar's technology centers around using small-scale portable equipment to convert waste biomass into resources such as fuel, fertilizer, and biochar. I spoke with Kevin Kung, Takachar's CTO and co-founder, to learn about the company's impact and operations.
Why focus on developing a smaller-scale system?
Traditionally, biomass operations have been large, with big facilities co-located with mills or lumber yard operations. However, biomass production is incompatible with these large facilities, and the logistics don't add up. There are also DIY operations, but those are difficult to scale and low efficiency. This means that remote and rural communities are shut out. Our small-scale portable systems that can be locally operated and densify residues on-site are meant to bridge that gap.
What is the impact of Takachar?
Takachar uses both crop residues and woody biomass as feedstocks. The burning of crop residues leads to air pollution and smog, and the buildup of woody biomass can exacerbate wildfires.

Using both of these feedstocks has some implications, and how we work with those materials depends on the context. While they both contain a plant-based fiber and are lignocellulosic, they are obviously different compositions. A forest operation is different from a farm operation. Some residues are left in the field, and some are collected with grain to mill and we'll peel the excess off.
What is the business case?
In the market, we've seen that people have been willing to pay for biochar. We turn crop residues into a high-value biochar-based fertilizer blend. Many soils are weathered and degraded, and farmers end up seeing a 20-30% increase in productivity after using our product, with pricing on par with the chemical fertilizers they were previously using for a standalone blend.

So far, we don't have any business based on carbon removal. It's a nascent and exciting market, but not our focus for now.

A bit more detail about the business case: Takachar sells the machines to farmers, who own and operate them with training and support from Takachar. Farmers sell the agricultural waste to Takachar, and the company is able to sell the fertilizer blend.
Who are your customers these days?
We work with farmers in remote communities who own land, in particular farmers who have really degraded soils to begin with. To start with, we'll usually start with older and more affluent farmers who have more risk appetites and are more influential. They'll try out our technology on a plot, and if they see a good result, they'll buy more of the product. This then spreads by word of mouth, for instance, to younger farmers who aspire to be like them. We can find out about soil degradation through testing, such as pH and texture, which can then be correlated to the area.

We also work with electric utilities. Many need to trim vegetation to avoid catastrophic wildfires and minimize the risk of starting it. This takes many forms, like a line timber harvest where you clear cut everything along that line or a more selective approach of just removing branches when you're near wildlife or an urban interface.
Takachar is a mission-driven startup with a specific focus on serving and empowering remote rural communities. The young company was the recent winner of the Clean Our Air category for the Earthshot Prize, and has earned support from fellowships such as Echoing Green, Deshpande Startups, and Cyclotron Road. Takachar is poised to positively impact the health and livelihoods of rural communities in India and beyond. The company estimates a $10 billion global market that it can address, out of the $120 billion worth of crop and forest residues that are burned in the open each year. Currently, Takachar is focused exclusively on producing char (and reducing local air pollution), rather than quantifying and selling carbon removal credits — expanding to carbon removal when it makes sense could also expand the market size.
Sign up for The Impact and discover climate startups & opportunities before it hits the front page
📚 EDUCATION // 💸 VC DEEP DIVE
The Fund That Has Been Investing In Climate For 20+ Years
By Daniel Kriozere • is a Principal at C3, Tech Scout at For ClimateTech, and Venture Scout at Prithvi - and has an extensive network within the broader climate investment and startup community.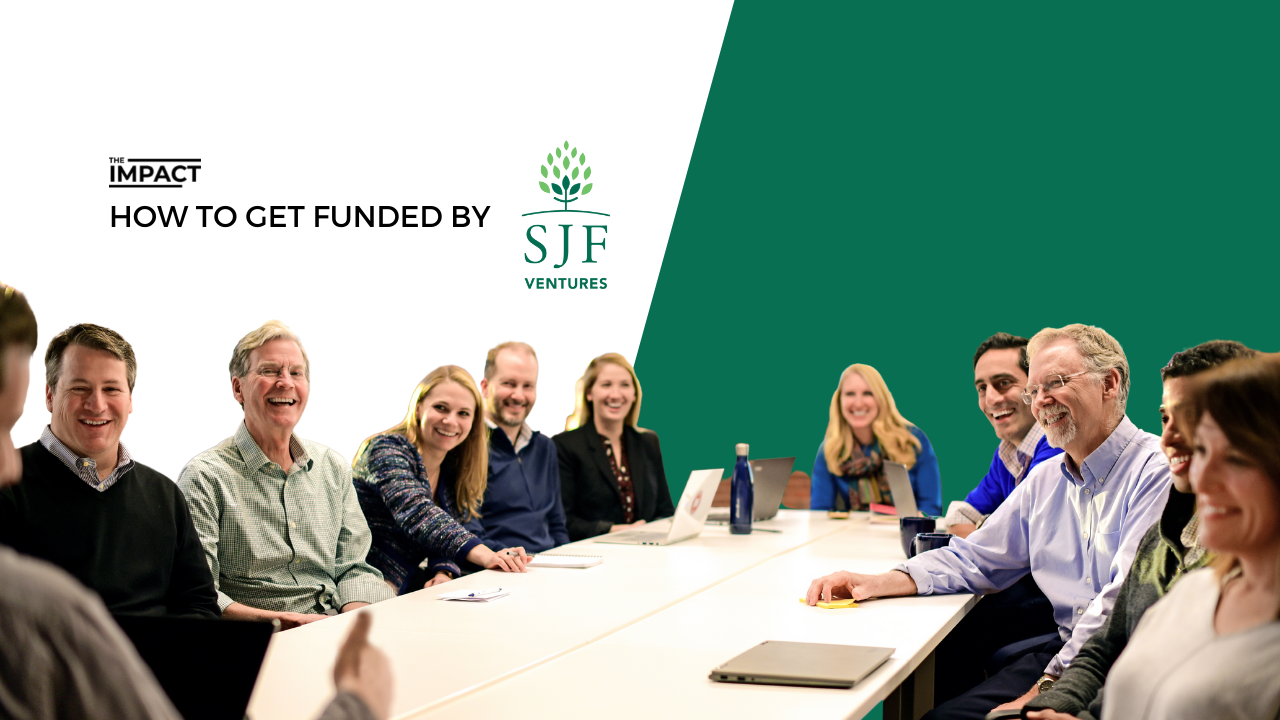 SJF Ventures invests in high-growth companies creating a healthier, smarter, and cleaner future. SJF's mission is to catalyze the development of highly successful businesses driving lasting, positive changes across a variety of sectors: clean energy and climate, circular economy and logistics, mobility and govtech, health, education, future of work, and sustainable food. Through its investment funds, the firm provides equity financing to companies seeking growth capital to scale.

Fund Snapshot
Stage: Seed – Series E, with a focus on Series A and B financings
Check Size: $2-10M
Geography: Mostly US, able to make international investments
Lead/Follow: Both
Revenue/Valuation Thresholds: $1M+ ARR
Why was the fund started?
Sustainable Jobs Fund (SJF Ventures) was founded 23 years ago with the thesis that the clean energy economy could provide quality employment opportunities across the US. The idea was to invest in companies with both financial and impact returns without compromise. Since its inception, SJF has supported a range of geographies through its investments, with portfolio companies in 23 different states to date.
What domains in climate tech does SJF Ventures have expertise in?
Over time, SJF Ventures has developed its investment expertise across a broad set of sectors, covering both environmental and social impact themes. Through its investments, the fund is focused on mitigating climate change, conserving natural resources, growing sustainable food, advancing education access and outcomes, improving health, and creating greater economic access. Within climate specifically, the team is interested in innovations across renewable energy generation and deployment (extending to batteries, grid enablement, etc.), circular economy, mobility and transportation, climate resilience and risk management, and more. Dave Kirkpatrick, managing director and co-founder of SJF, is one of the impact investing field's experts, and he has spent his entire career in the climate change mitigation space. He has extensive experience in renewables and the solar industry, which he utilizes in SJF's investment work.
What type of portfolio support does the team provide?
SJF is actively engaged with portfolio companies, providing various types of support. Some examples include: introductions to relevant industry partners and investors, value-add project design, a suite of operational resources and best practice guides, impact measurement and management tools, and more.
What is SJF Ventures' investment process and timeline?
Each investment opportunity is assessed on a case-by-case basis. The timing, speed, round size, terms, and more can all vary, and as a result, SJF's process has some built-in flexibility. Deal teams are made up of a Managing Director and one or two other members of the SJF investment team. Diligence includes a combination of items, depending on the company. A diligence process typically consists of connecting with the company's management team, conducting customer calls, and consulting with experts in the startup's field, in addition to assessing the financial model, customer pipeline, market, product or service, impact thesis and efficacy proof points, and more.

As part of its impact diligence, SJF looks to proactively identify ways in which the firm may partner with a company post-investment to "bend the curve on impact." Beyond supporting companies to grow and consequently scale the embedded impacts of each business model, SJF works in partnership with companies to deepen and/or broaden the impacts of its own engagement as a value-add, impact-oriented investor.
Ecotone • The Stand-Alone Unit For Food Waste
By Daniel Kriozere • is a Principal at C3, Tech Scout at For ClimateTech, and Venture Scout at Prithvi - and has an extensive network within the broader climate investment and startup community.
Food waste is a costly problem in the United States, where Americans squander $408 billion worth of food each year. That much money would be enough to end world hunger twice over. This rotting food is also responsible for about 8% of greenhouse gas emissions, providing a chance to reduce national and international emissions.
Enter Ecotone Renewables:
Ecotone is the most environmentally friendly option for food waste processing and fertilizer production. Their core product, an anaerobic digestor knighted the Seahorse, consumes all byproducts and produces no waste. This self-contained device doesn't require power or water, giving it unrestrained flexibility.

Dylan Lew, who has extensive experience in lean product development and manufacturing, is the CEO of Ecotone Renewables (Ecotone), a startup working to solve the problem of food waste. More precisely, Ecotone addresses the issues that their customers encounter, such as high fertilizer costs, high trash hauling fees, odor and pests, and costly waste transportation rates.

Ecotone's Seahorse anaerobic digestion technology fits within a shipping container. Their process catches odorous and energy-dense gasses, scrubs them to eliminate sulfur, and generates odorless renewable energy (methane gas) and fertilizer.

The Seahorse is Ecotone's solution to this challenge, as it sustainably processes food waste by recapturing nutrients that would otherwise be lost and reintroducing them back into the food system. Each Seahorse system saves 120 tons of CO2e each year by reducing methane emissions from food waste, reducing transportation, and eliminating the usage of synthetic fertilizers.

Ecotone's success directly impacts the long-term viability of waste processing. Their objective is to empower sustainable communities, resulting in more conscious, sustainable, and affluent communities.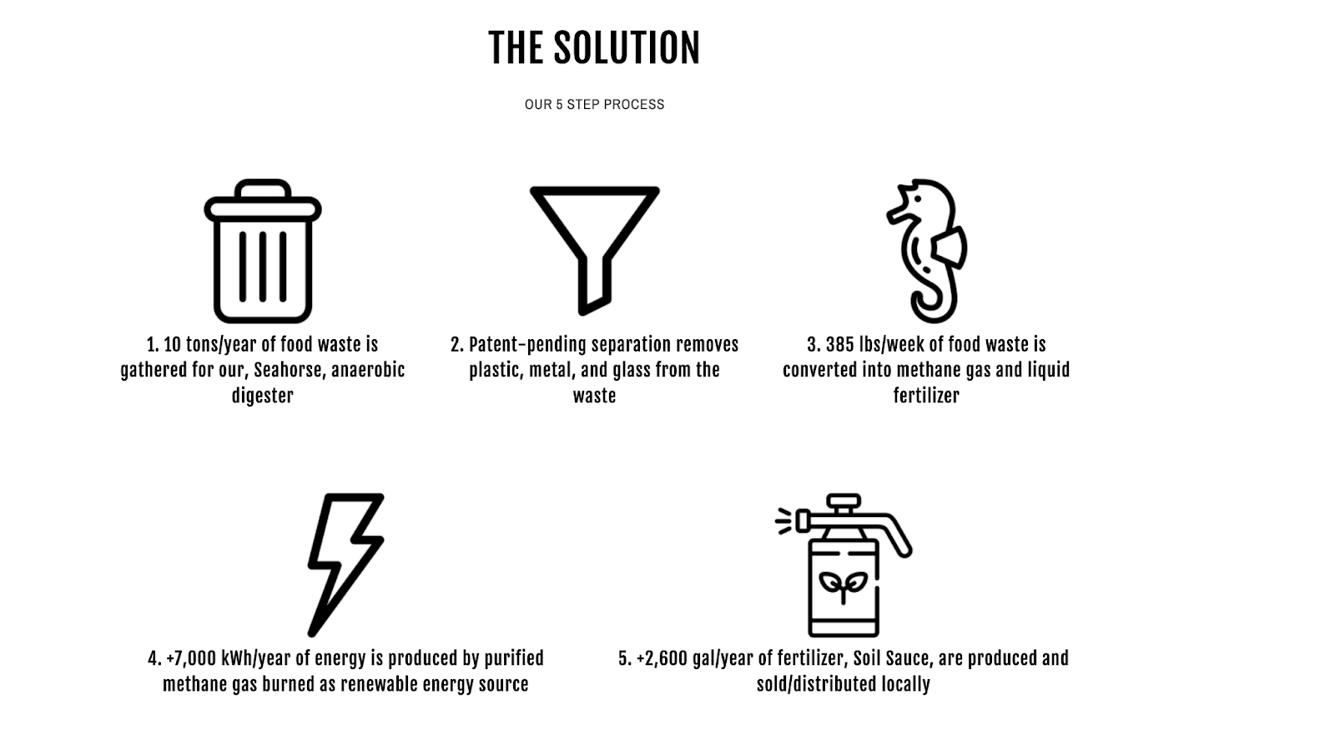 Ecotone leverages anaerobic digestion along with a patent-pending separation technology. To give a brief refresher on anaerobic digestion, it's most comparable to a stomach — food and beverage residuals go in, and renewable energy in the form of methane gas and fertilizer comes out. In other words, it's a mechanical horse stomach that they call the SEAHORSE. Unlike stomachs, their system captures smelly and energy-dense gasses, scrubs them to remove sulfur, and produces clean and odor-free renewable energy.

Ecotone has engineered a self-sufficient solution at the epoch of sustainability claims, as it runs on a system that's both resource and energy-independent. The output of this digestor is their second product: their "signature" Soil Sauce. A single Seahorse system has the power to produce $40K in annual revenue from organic fertilizer generation, all the while producing all of the 7,000 kWh of electricity needed to operate the system. Its rainwater collecting system can collect up to 30 gallons of rain each week and can be upgraded with different water capture systems.
Other solutions currently include composting, incineration, landfilling, and regional anaerobic digestion. When it comes to social, economic, and environmental benefits – landfilling has the most negligible benefit and the greatest danger of externality. More benefits are provided through waste to energy, composting, farm feed, and regional anaerobic digestion, but Ecotone gives the most value to both businesses and the environment by providing a hyperlocal and circular solution to food waste.
Ecotone also provides businesses discounted waste hauling fees ranging between $20-$100 per ton, all while helping with waste management and surplus.
Ecotone has talked to a lot of potential clients, and the results are fascinating. According to Ecotone's customer discovery, 87% of the community leaders and business owners they spoke with expressed a need for a cost-effective and long-term waste recycling solution, particularly for their food waste. Because the majority of them do not currently have any of these options, 81% of them pay to dispose of organic waste in garbage cans and in landfills. Meanwhile, 91% of the local farmers they spoke with said they buy fertilizer based on price, the convenience of usage, and quality. These findings support the market Ecotone is going after.

The total serviceable market of food waste management and fertilizer is $27 billion in the United States alone. California, New Jersey, Massachusetts, and Vermont have all passed and implemented some form of food waste landfill bans. Other states and countries will follow. Ecotone is designed to meet permitting and policy standards so that it is accessible in urban areas, can be shipped and deployed quickly, and is one of the few systems that maximize byproduct usage.
There is a huge push for sustainable processing of waste and circular economy solutions. Governments are imposing food waste bans in landfills. This is an excellent step to forcing businesses to adopt sustainable waste practices but also leaves many small businesses without affordable options and a new regulation to follow. As such, there exists a market need for sustainable waste processing for small to mid-sized businesses. There are strong market forces that can support Ecotone's 10-year-goal to divert 2.4 million tons of CO2 annually and empower sustainable communities.
☕ CONSIDERING A WAY TO SUPPORT US?
Consider donating if you found this newsletter useful. These dollars are used to support The Impact and our writers as we continue to produce research and insights in the space.
✍️ WANT TO HELP US IMPROVE?
How would you feel if you could no longer receive The Impact?
Editors: Stephanie Zulman, Swarnav S Pujari Writers: Daniel Kriozere, Christina Zhou

If you aren't absolutely thrilled with The Impact, reply and let us know why. Or you can unsubscribe from all updates by clicking here.

Copyright © The Impact 2021. All Rights Reserved || 19 Morris Ave, Bldg 128, Brooklyn NY 11205