Food waste is a costly problem in the United States, where Americans squander $408 billion worth of food each year. That much money would be enough to end world hunger twice over. This rotting food is also responsible for about 8% of greenhouse gas emissions, providing a chance to reduce national and international emissions.
Ecotone is the most environmentally friendly option for food waste processing and fertilizer production. Their core product, an anaerobic digestor knighted the Seahorse, consumes all byproducts and produces no waste. This self-contained device doesn't require power or water, giving it unrestrained flexibility.

Dylan Lew, who has extensive experience in lean product development and manufacturing, is the CEO of Ecotone Renewables (Ecotone), a startup working to solve the problem of food waste. More precisely, Ecotone addresses the issues that their customers encounter, such as high fertilizer costs, high trash hauling fees, odor and pests, and costly waste transportation rates.

Ecotone's Seahorse anaerobic digestion technology fits within a shipping container. Their process catches odorous and energy-dense gasses, scrubs them to eliminate sulfur, and generates odorless renewable energy (methane gas) and fertilizer.

The Seahorse is Ecotone's solution to this challenge, as it sustainably processes food waste by recapturing nutrients that would otherwise be lost and reintroducing them back into the food system. Each Seahorse system saves 120 tons of CO2e each year by reducing methane emissions from food waste, reducing transportation, and eliminating the usage of synthetic fertilizers.

Ecotone's success directly impacts the long-term viability of waste processing. Their objective is to empower sustainable communities, resulting in more conscious, sustainable, and affluent communities.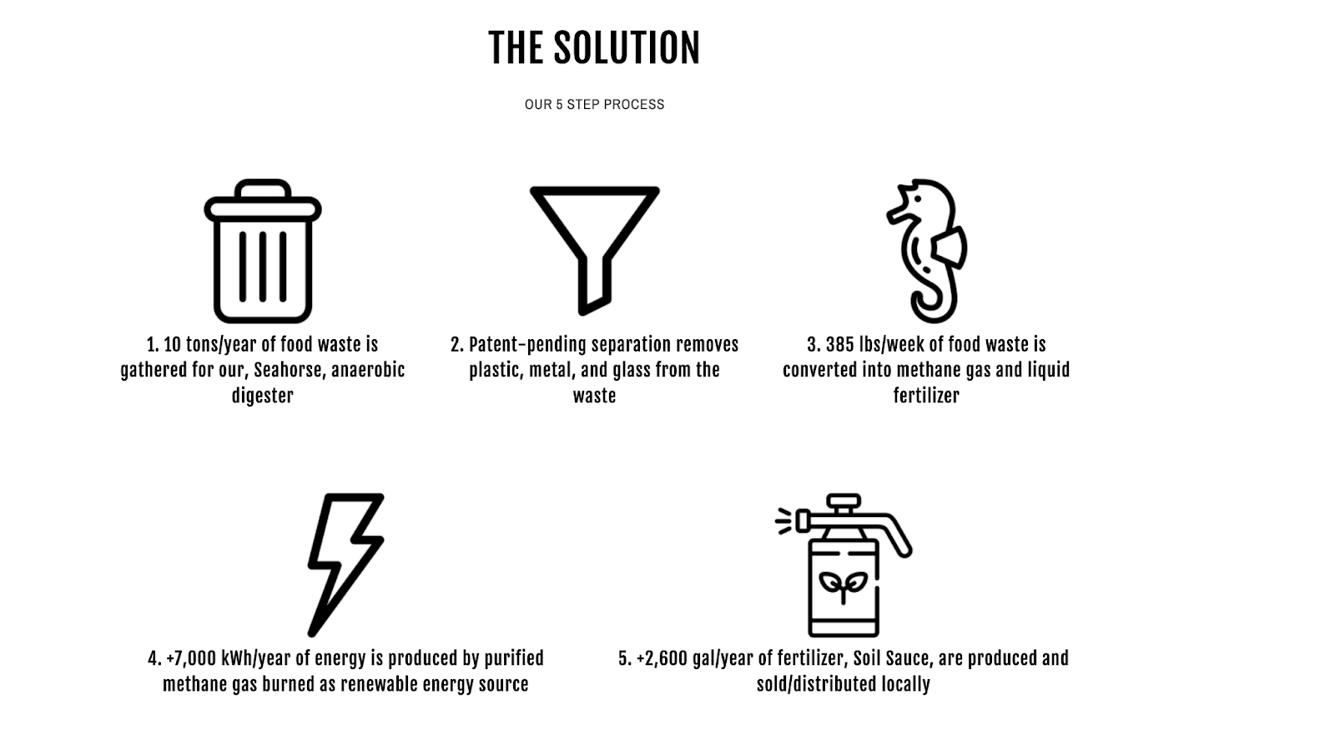 Ecotone leverages anaerobic digestion along with a patent-pending separation technology. To give a brief refresher on anaerobic digestion, it's most comparable to a stomach — food and beverage residuals go in, and renewable energy in the form of methane gas and fertilizer comes out. In other words, it's a mechanical horse stomach that they call the SEAHORSE. Unlike stomachs, their system captures smelly and energy-dense gasses, scrubs them to remove sulfur, and produces clean and odor-free renewable energy.

Ecotone has engineered a self-sufficient solution at the epoch of sustainability claims, as it runs on a system that's both resource and energy-independent. The output of this digestor is their second product: their "signature" Soil Sauce. A single Seahorse system has the power to produce $40K in annual revenue from organic fertilizer generation, all the while producing all of the 7,000 kWh of electricity needed to operate the system. Its rainwater collecting system can collect up to 30 gallons of rain each week and can be upgraded with different water capture systems.
Other solutions currently include composting, incineration, landfilling, and regional anaerobic digestion. When it comes to social, economic, and environmental benefits – landfilling has the most negligible benefit and the greatest danger of externality. More benefits are provided through waste to energy, composting, farm feed, and regional anaerobic digestion, but Ecotone gives the most value to both businesses and the environment by providing a hyperlocal and circular solution to food waste.
Ecotone also provides businesses discounted waste hauling fees ranging between $20-$100 per ton, all while helping with waste management and surplus.
Ecotone has talked to a lot of potential clients, and the results are fascinating. According to Ecotone's customer discovery, 87% of the community leaders and business owners they spoke with expressed a need for a cost-effective and long-term waste recycling solution, particularly for their food waste. Because the majority of them do not currently have any of these options, 81% of them pay to dispose of organic waste in garbage cans and in landfills. Meanwhile, 91% of the local farmers they spoke with said they buy fertilizer based on price, the convenience of usage, and quality. These findings support the market Ecotone is going after.

The total serviceable market of food waste management and fertilizer is $27 billion in the United States alone. California, New Jersey, Massachusetts, and Vermont have all passed and implemented some form of food waste landfill bans. Other states and countries will follow. Ecotone is designed to meet permitting and policy standards so that it is accessible in urban areas, can be shipped and deployed quickly, and is one of the few systems that maximize byproduct usage.
There is a huge push for sustainable processing of waste and circular economy solutions. Governments are imposing food waste bans in landfills. This is an excellent step to forcing businesses to adopt sustainable waste practices but also leaves many small businesses without affordable options and a new regulation to follow. As such, there exists a market need for sustainable waste processing for small to mid-sized businesses. There are strong market forces that can support Ecotone's 10-year-goal to divert 2.4 million tons of CO2 annually and empower sustainable communities.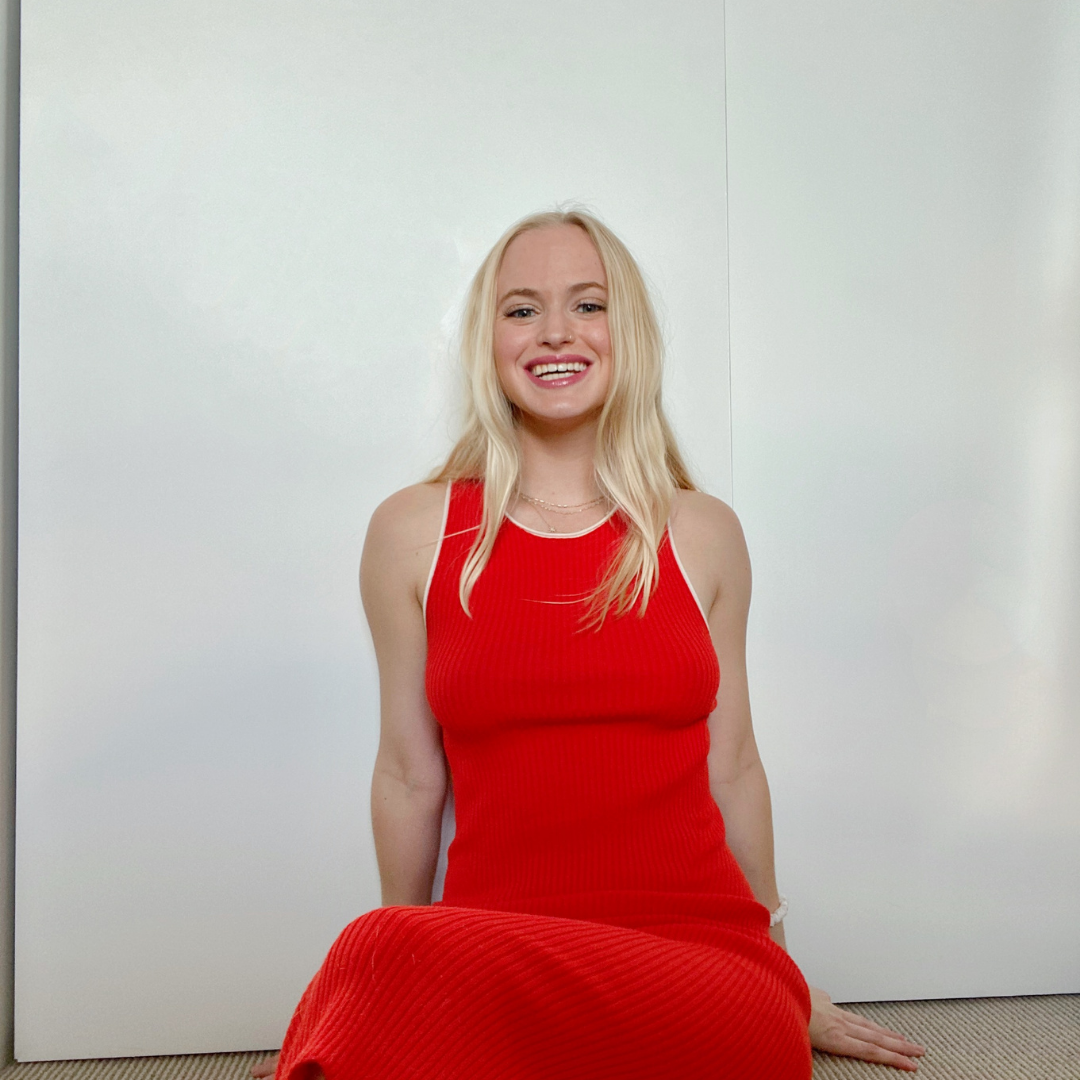 Partner • Editor-in-Chief @ The Impact
Stephanie holds a BBA in Supply & Value Chain Management and in Entrepreneurship & Innovation from TCU (Go Frogs!!) and minored in both Energy and History because… why not. After a stint in LA working in lean manufacturing for a large industrial company, her most recent educational foray was as a part of the LEAP program at Boston University to explore the field of Material Science & Engineering. Stephanie's most recent work has been volunteering with a small DAC startup in Reykjavik called Carbon Iceland. Now, she's living the dream working in supply chain as a Procurement Analyst at the carbon capture company, LanzaTech. An aspiring tree hugger, she hopes to spend the rest of her career aiding the massive societal transition to cleaner industrial and business practices– ideally through work pertaining to carbon capture, sequestration, and the processes' byproduct utilization to unite her love of science, sustainability, business, and supply chain. In her free time she enjoys both the American and English versions of football, growing her working knowledge of plant cultivation, and reading.