In another step towards battery energy storage systems (BESS) adoption, two Canadian government buildings are partnering up with TROES, a Canadian battery manufacturer, to install their units in two separate projects to pave the way to net-zero emissions at the commercial level. Through the Shediac Smart Energy Community Project, the New Brunswick town is focused on how "future of energy" technologies can ratepayers, community, and stakeholders by integrating cloud-based energy storage systems into a smart grid.

Focusing on peak shaving, or reducing the amount of energy consumed from the grid during high-demand, high-cost periods, these buildings will take advantage of combined solar + storage from a community solar farm to reduce electricity costs and emissions for the town. With TROES cloud-based BESS system, the firm will be able to work with Shediac to optimize energy consumption to create consumer and environmental benefits.
Provides another real-world demonstration for battery technology at the commercial scale. With a government entity being involved, success for this project can accelerate the growth and adoption of BESS technology for commercial purposes.


Data collection will optimize smart-grid implementation for the region. By understanding electricity demand in real-time at the local level, smart-grids, and particularly microgrids, can efficiently predict demand and more accurately utilize electricity at granular levels.


Shows greater proof of concept for LFP batteries. While Lithium-ion technology has been around for a while, different chemistries address different pain points. LFP batteries are known for being safer and non-toxic but have a small capacity. While these units can generally be stacked, utility-scale LFP batteries may still be far away.
Comparison of Electrochemical Battery Chemistries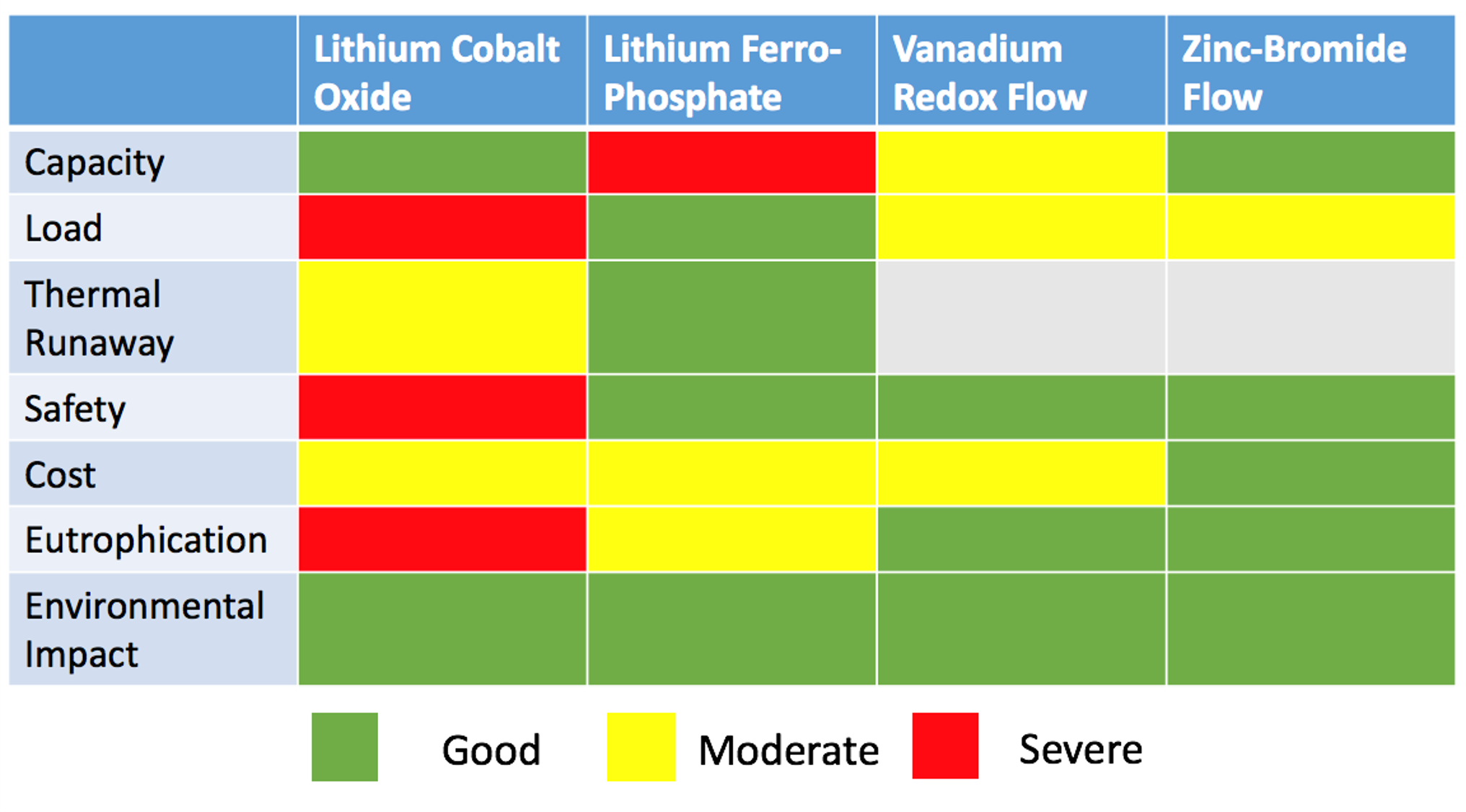 Shediac has notoriously been an early adopter for piloting green energy technologies. Should the data and benefits from this 4-year project prove fruitful, scaling of these projects can advance rapidly, especially since this a federally funded project.


Cloud-based energy storage systems can become the new norm, even at micro scales, giving rise to combined software-hardware energy storage solutions. While there are many SaaS startups that are addressing grid optimization and energy storage and utilization data, combining them with hardware units can reap major benefits.
Federal implementation of energy storage units has considerable advantages. First, it shows that the government is committed to making a difference, even at the smallest levels. Second, it shows that funding is available for public-private relationships, boosting technological advancement while bolstering the reputation and prospects of startups in the industry. Third, it creates community awareness. If this is a success, this can hopefully lead other governments to work with ISOs and RTOs to implement pilot projects at the commercial scale in conjunction with government entities. While there is considerable funding in the United States for energy storage technologies to address a wide variety of applications, integration of such systems into the grid is a tedious, time-consuming process with little to show for.
Matt is an Impact Investment Fellow with Vectors Angels as a part of the organization's sustainability team. While most disciplined in power generation and energy storage, Matt takes on a wide array of technologies in the sector.
Leveraging these skills, Matt works with early-stage startups on fundraising and go-to-market strategies, understanding their market, and competitor due diligence.
Matt holds a BS in Finance and Economics from Boston College and an MEng from Boston University in Materials Science & Engineering. Matt's graduate research and passion focused on the impact fundraising mechanisms and financial institutions have on the success of startups in the renewable energy and cleantech industries. His current interests involve developing new financial instruments to fund demo and pilot "tough tech" projects and closing the commercialization gap.