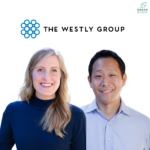 The Westly Group supports high-growth, capital-efficient businesses that support the digitalization and sustainability of energy, mobility, buildings, industrial technology and cybersecurity. To assist outstanding entrepreneurs in raising finance rounds that meet their growth needs, they've created a flexible investment approach.
Fund Snapshot
Stage: Series A – Series B
Check Size: $5-15M
Geography: Developed markets (primarily US)
Lead/Follow: Both (primarily lead)
Revenue/Valuation Thresholds: Commercial traction
Why was the fund created?
Steve Westly founded the Westly Group in 2007 to combine his government experience at the US Department of Energy, and as the Controller and CFO of the State of California and as an entrepreneur where he helped take eBay public. After experiencing Cleantech 1.0, Westly developed its thesis of investing in capital efficient, high growth, software startups.
What domains in climate tech does your firm have the greatest expertise in?
Westly has expertise in and is focused on 5 verticals:
Energy
Mobility
Buildings
Industrial Tech
Cybersecurity
What type of portfolio support does your team provide?
Unlike other VC's, Westly was created with the intention of helping startups with sales and marketing, rather than helping with the technology. Additionally, Westly collaborates with portfolio companies and can help with:
Customer & Sales Pipeline development
Business development and/or sales support
Financing & exit strategies
Recruiting
What is Westly's investment process and timeline?
Westly prefers to build long-term relationships with entrepreneurs but can make investment decisions within a few weeks. Their process entails talking with the executive team and the startup's customers, researching the market (size, competition, exits, etc.), and unit economics. That said, Westly puts emphasis on the team behind a startup, and as such, they are eager to develop relationships with startups after a Seed round. This enables Westly to track a company's progress while showing how Westly can add value.
What would make Westly consider deviating from their typical criteria?
Westly is open to investing in startups outside of their typical criteria, as long as it is tangential to the verticals they are focused on. For instance, the cybersecurity vertical was included in their thesis after realizing that cybersecurity is a critical piece for their vision of a successful digitally enabled, sustainable future. If a technology provides value to the sector Westly invests in, they are open to it.
Daniel currently works at Lawrence Livermore National Laboratory as a Product Manager. Outside of his day job, he is a Principal at C3, Tech Scout at For ClimateTech, and Venture Scout at Prithvi. He also works with various climate incubators/accelerators (Cleantech Open, Techstars, and Joules Accelerator) and runs The Impact and Innovate Climate – both are newsletters covering startups in the climate space.