The global waste management industry has soared past a $2 trillion USD market evaluation. Establishing more sustainable composting, recycling, upcycling, and disposal practices society-wide is critical to meeting climate goals. 
This is a daunting task, seeing as our over-consumption habits don't look to be slowing down any time soon. US landfills are already at over 85% capacity. 
Disposal carries its own heavy burden of pollution as well. Roughly 16% of all methane gas released into the atmosphere comes from the waste management industry. 
To address this problem it requires 2 major areas of focus from climate founders.
IT innovations are the first critical element in upgrading the industry. As governments look to reward those increasing our ability to create a circular economy, the need for accurate sorting and disposal is getting greater attention and investment. Dividing waste, sorting robots, compactors operated using GPS, and other means to track and sort recyclable materials are essential to a successful transition.
However, the second component of a successful circular economy is the actual processing and transformation of waste into useful materials. While we've started experimenting with many innovative ways to do this, an unfortunate challenge that has remained prevalent is how to responsibly dispose of toxic waste.
Harnessing the power of nature, Mycocycle (scouted by Gener8tor Sustainability) mitigates risk for governments, manufacturers, and waste operators by removing harmful toxins from trash to create a renewable resource of biobased materials.
Founded by Joanne Rodriguez (CEO), coming from decades of experience in the building materials manufacturing sector, and supported by Daniel Reyes, Mycocycle's Lead Mycologist sporting his own decades of experience in myco-remediation, Mycocycle is using breaking our own preconceived notions of what waste processing should look like. 
Instead of treating trash with fire and artificial solutions, mushrooms can transform waste to create new materials using some patience (just a few weeks) and secreted enzymes. For toxic waste, the tradeoff is a no-brainer.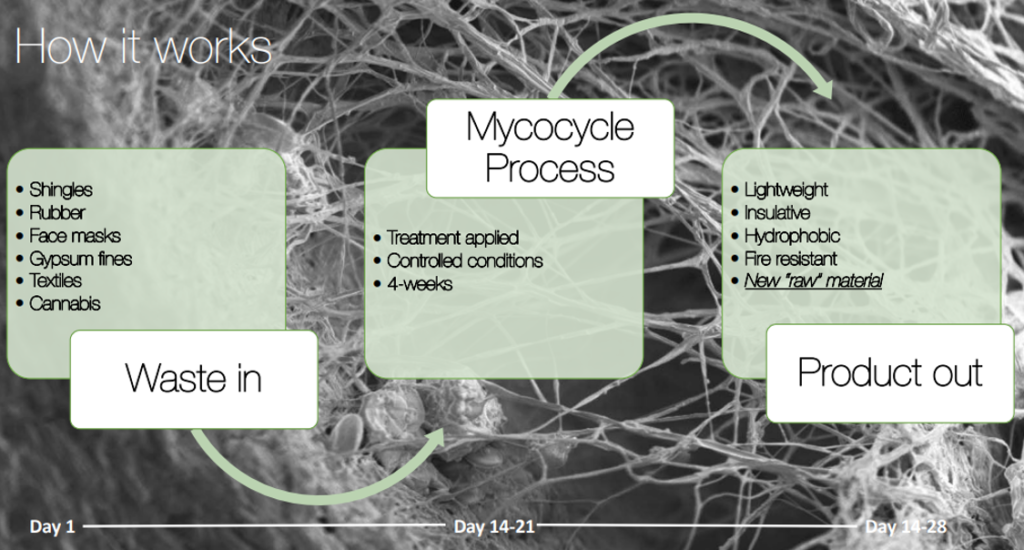 Mycocycle has managed to train one of Earth's mightiest mushrooms, mycelium, to secrete enzymes through materials using a biologic synthesis process. This allows it to convert heavy hydrocarbons and plasticizers into simple forms that the environment can actually digest and decompose. 
Their trained mycelium enables Mycocyle to minimize waste, create new materials, and reduce greenhouse gases. For every 1 ton of waste diverted, 2.94 metric tons of CO2e are avoided. The applicability of their science doesn't seem to know any bounds just yet. Develop and provide specially blended treatments for materials There are just three simple steps in their groundbreaking process:
Waste is reduced in size, pre-treated, and blended with Mycocycle's proprietary formulation. 

Treated waste incubates in a controlled environment for a period of 2-4 weeks.

The new raw materials are harvested for reuse for new applications.
Once the waste is remediated, the result is a renewable byproduct that is fire and water-resistant and can be manufactured into new products—allowing the process to further pay for itself within the closed-loop ecosystem.
Mycelium's adaptability and potential give it leeway to be effective in a wide range of uses and applicable to a variety of industries, including bioremediation, construction, and demolition segments of the waste management industry, representing a $300 billion market opportunity.
Upon the successful scale-up of Mycocycle, they'll have entered the material supply chain as well with mass-produced goods that all consist of "mushroom-based" byproducts. Along with all other useful benefits of their innovation, the mycelium treatment can also improve the performance of existing materials we use in the market. In addition, this same mushroom is used to develop novel new materials for manufacturers, giving the mycelium double the usefulness with a dual purpose. 
Mycocycle has positioned itself uniquely between two critical industries: waste management and materials management. Existing technologies for materials development and processing unwanted and unusable materials lack an integrated touch, leaving a wide-open landscape of opportunity.
They have the ability to lay transformational change on a bevy of materials. Engineered soils, packaging, and building products are just a snippet of the vast potential and wide applicability Mycocycle and their trained mycelium have the opportunity to capitalize on.  
The omnipresence of the oil industry in much of our raw materials is staggering. Currently, most are looking for synthetic and organic replacements for raw materials. Mycocyle enables an entirely new type of biological approach to raw material replacement without the usual bitter tradeoffs between profit and environmental/human health. As the entire world starts to comprehend the enormity of the transition that we must rapidly undertake, Mycocyle's mushroom approach offers a much more efficient method for creating a circular economy.
Waste handlers are left with few options for treating their trash in an environmentally responsible manner. Additionally, landfills are running out of space. As a result, many local utilities, governments, and environmentally focused agencies, like the EPA, are seeking ways to regulate landfills, reduce emissions, and prevent toxic byproducts, like PFAS. Mycocycle's solution can address all of the problems the industry currently faces.
There is keen interest in adopting Mycocycle's process among the waste management and material manufacturing sectors, particularly among construction enterprises. For some construction and demolition recyclers, it's a matter of life and death. Their primary goal is to generate end value from the garbage they handle. Manufacturers benefit from the idea of repurposing their industrial waste into new products. It helps them meet ESG standards, reduce carbon emissions, and provide stability in a volatile supply chain environment.
Mycocycle is well-positioned to help organizations go circular, mitigate risk related to waste and reduce material costs.
Mycocycle has big dreams of disruption. In the next five years, they look to treat 1.5 million tons of waste. By year ten, their focus is set on completely revolutionizing the waste industry akin to Tesla with the automotive industry. 
With the ability to contribute to the avoidance of 4.4 million metric tons of CO2e and strategic flexibility that allows them to connect the materials supply chain with waste management, Mycocycle's future is bright.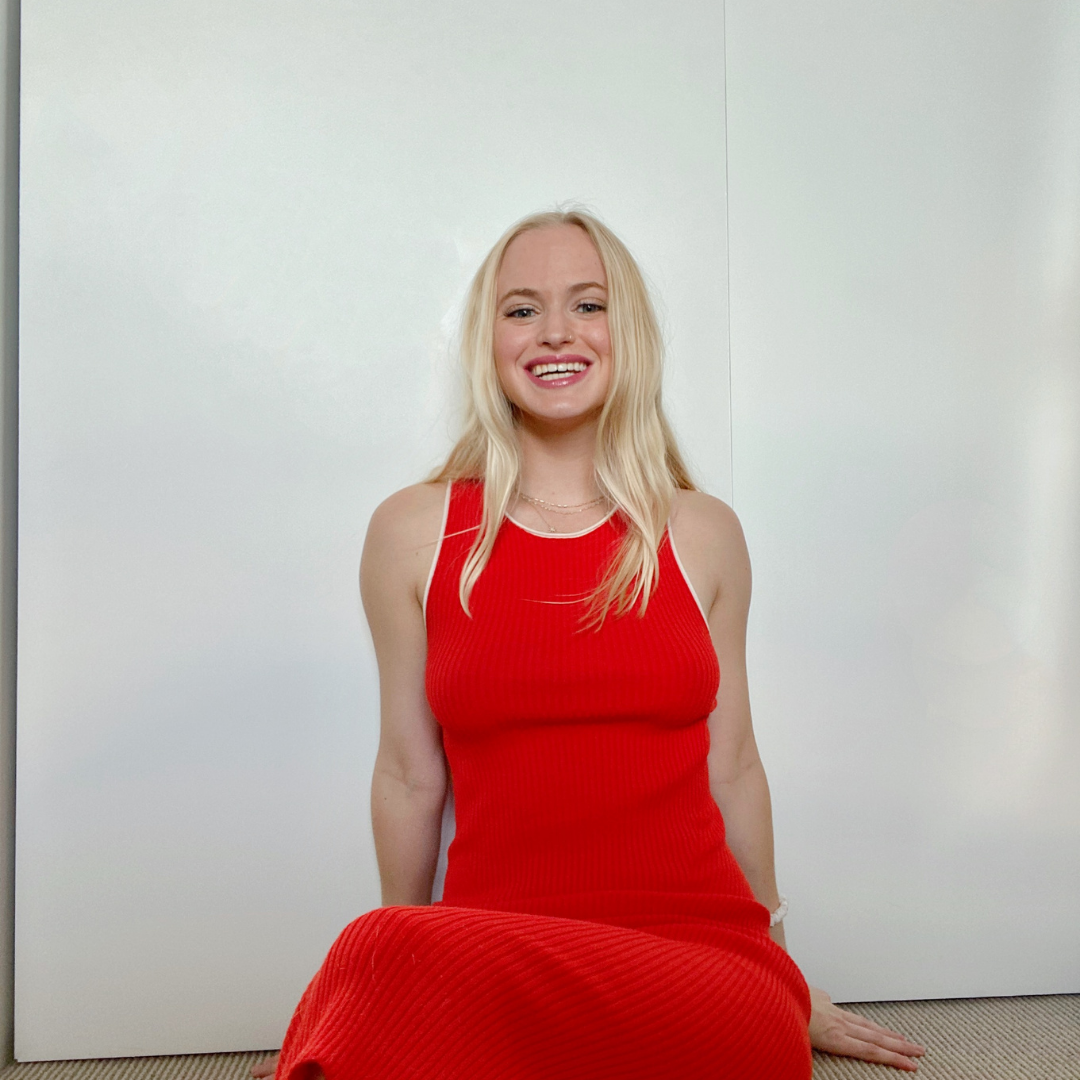 Partner • Editor-in-Chief @ The Impact
Stephanie holds a BBA in Supply & Value Chain Management and in Entrepreneurship & Innovation from TCU (Go Frogs!!) and minored in both Energy and History because… why not. After a stint in LA working in lean manufacturing for a large industrial company, her most recent educational foray was as a part of the LEAP program at Boston University to explore the field of Material Science & Engineering. Stephanie's most recent work has been volunteering with a small DAC startup in Reykjavik called Carbon Iceland. Now, she's living the dream working in supply chain as a Procurement Analyst at the carbon capture company, LanzaTech. An aspiring tree hugger, she hopes to spend the rest of her career aiding the massive societal transition to cleaner industrial and business practices– ideally through work pertaining to carbon capture, sequestration, and the processes' byproduct utilization to unite her love of science, sustainability, business, and supply chain. In her free time she enjoys both the American and English versions of football, growing her working knowledge of plant cultivation, and reading.