The US solar industry grew by 43% in between 2019 and 2020. Most of the newly added capacity is likely coming from utility scale deployments or residential installs.
Ignoring the commercial and industrial (C&I) space for solar has become almost a status quo. While many in the industry recognize the hugely untapped opportunity of deploying solar plus storage on C&I properties – the challenges it can bring tend to drive installers to look towards the utility scale deals or focus on residential projects.
The reason C&I solar plus storage projects get avoided is because they tend to have the permitting complexity of a utility scale project, but the "smaller" check size and behavior of a residential project.
Pair this with the rise of more energy storage systems (ESS) being deployed and utilities wanting property owners to prioritize buying solar plus storage – for grid management purposes – and you run into multiple new challenges:
Financing C&I projects
System design and standardization (modularity)
Keeping project economics reasonable when including ESS in project bids
Enabling ease of deployment and maintenance of a solar plus storage
Yotta [yah-tah] Energy – founded by Omeed Badkoobeh and Vikram Iyengar – is building a solution to address the system design and standardization as well as the project economics challenges plaguing solar installers in closing more deals in the C&I market.

They do this through a solar panel integrated battery system.

Much like how Enphase enabled the modularity of deploying solar on residential properties, Yotta Energy is bringing the same approach to deploying energy storage effectively.
The hidden cost of commercial storage projects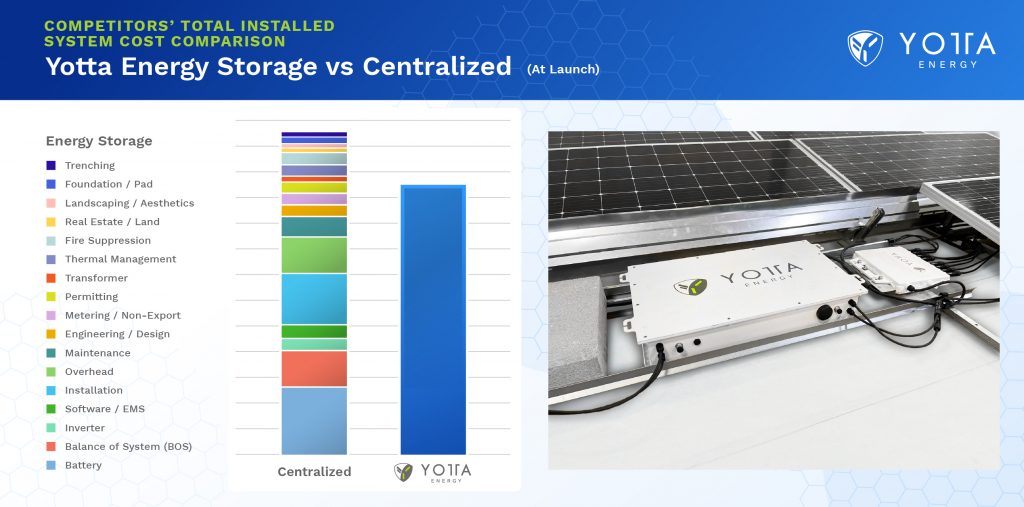 Many people see the battery cost or the inverter as the primary driver in making projects expensive in small commercial and industrial battery projects. However, as shown by the graph it's ancillary protections and installation that can drive the cost through the roof.

The benefit of taking a modular and panel based approach – as Yotta is doing – is that it allows developers to now avoid most if not all of those "extra" costs associated with these projects.
Yotta could create MWhs of easy-to-deploy storage capacity - which may position them as a leading player in deregulated electricity markets
The monetization of energy storage through VPP contracts or by trading flexible capacity on the wholesale markets (post FERC 2222) makes Yotta a really interesting player going into the future.

The ability to rapidly deploy low cost energy storage in a market which struggles to adopt energy storage (small commercial and industrial) means they've discovered a way through their system architecture to bring new capacity into the marketplace.

The potential to play in these markets and generate additional revenue from the creation of this capacity makes them positioned as a strong candidate even as other similar technologies may prop up.
Yotta excites me given their key focus on servicing the small commercial and industrial niche. This sector has remained largely untouched from a financing, install base and adoption front purely because economics have been limited even with tax incentives.

New technological approaches like Yotta's are what are needed to open this sector up.
Swarnav has over 10 years of experience in the energy & climate tech space, holds 2 patents and is active in the tech, climate and media industries. He specializes in Product/Product Innovation as well as Go-To-Market and Growth Strategy.
By training he's a Materials Engineer with a background in research from his time at Georgia Tech and University of Illinois (UIUC).
He founded TouchLight a utility backed energy company focused on developing IP for utilities and startups pushing electrification forward. He also serves as the appointed Chairman for the Town of Yorktown's Climate Smart Communities Task Force, where he helps with drafting legislation and enabling sustainability efforts within the town.
Concurrently, Swarnav founded The Impact to help investors, emerging founders and driven climate enthusiasts discover and identify new climate-tech startups, technologies and opportunities before they hit the traditional media sources.