😄 How did you enjoy Daniel Kriozere week… Did you learn something new or find a new fund to pitch to? For the investors reading this did you discover a new fund to network and share deal flow with?

Let us know what your favorite parts of Daniel Kriozere week were!

– Stephanie Zulman & Swarnav S Pujari
The Fund That Interacts with Each Portfolio Company 800 Times a Year
By Daniel Kriozere • is a Principal at C3, Tech Scout at For ClimateTech, and Venture Scout at Prithvi - and has an extensive network within the broader climate investment and startup community.
Active Impact Investments provides capital and talent to accelerate the growth of early-stage climate tech ventures catalyzing the transition from finite to infinite sources of energy, food, water, and products. They typically invest in revenue-generating startups with product-market-fit.
Fund Snapshot
Stage: Mostly Seed, some Pre Seed and Series A

Check Size: $1.5M CAD

Geography: US, Canada

Lead/Follow: Lead Seed, Follow Series A

Revenue/Valuation Thresholds: Generating revenue
Why was the fund created?
Mike Winterfield founded Active Impact Investments because after 15+ years across 4 industries, he wanted to do more than just earn a paycheck. He wanted to create a positive impact by working on climate change.

He didn't set out to become a venture capitalist. Mike mentioned, "I sort of backed my way into [becoming an investor]. Between the change I was trying to create in the world, my experience, and what I was good at, I realized that helping startups is basically giving them access to executive skills that I could help them with."
What is Active Impact Investments' core belief?
Active Impact Investments is looking to invest in startups that can have a meaningful amount of impact – it has to move the needle on emissions and fight climate change at scale.
What domains in climate tech do Active Impact Investments have the greatest expertise in?
Active Impact Investments is focused on 4 verticals:
Clean energy and transportation

Smart infrastructure

Sustainable food and water

Circular and sharing economy
What type of portfolio support does Active Impact Investments provide?
Active Impact Investments regularly hears from startups in their portfolio that they are the most active investor on the cap table. Mike shared that each founder interacts with the Active Impact Investments team about 800 times a year.

In a business, 5% of your time should be spent on strategy and 95% should be spent on execution. Active Impact Investments aligns with this and works with founders, rather than just providing advice. Active Impact Investments can help startups with:
Sales and marketing

Finance

Technology

HR

Additionally, there are roughly 100 LPs backing Active Impact Investments that can open doors for portfolio companies.
What are Active Impact Investments' investment process and timeline?
Active Impact Investments starts off by looking at if a company creates impact or not. This has to be a meaningful amount of impact, where at scale it would move the needle to fight climate change.

Active Impact Investments' process is focused on relationship building and getting to know the startup. Their process is standard in terms of steps: a screening call, pre-screening memo, deal room meeting, pitch, due diligence, term sheet. Active Impact Investments can move as quickly as a startup needs.
What would make Active Impact Investments consider deviating from their typical criteria?
For Active Impact Investments, a startups' impact and the founding team can convince them to invest outside of the typical criteria they look for.
Sign up for The Impact and discover climate startups & opportunities before it hits the front page
Osmoses: Transforming Chemical Separations
By John Docter • is an Engineering Analyst Fellow for a national laboratory. He's keen on saving the world through science and education.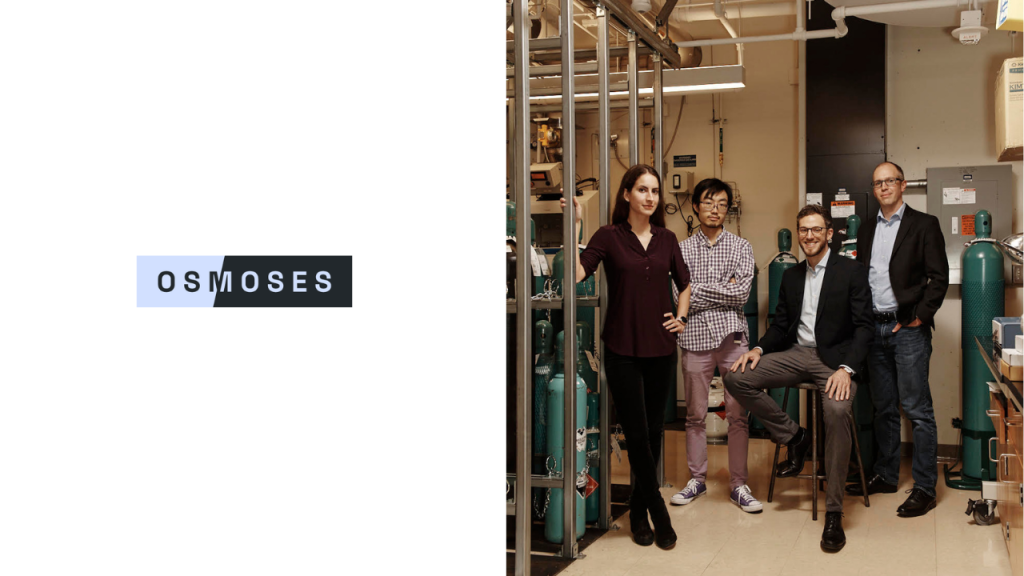 Osmoses (CleanTech Open Northeast Finalist), founded by CEO Francesco Benedetti and CTO Holden Lai, is working on scaling and marketing molecular membranes to reduce energy and resource use in the industrial chemical industry. This is an important technology because it allows large-scale, energy-intensive processes to be replaced by a membrane that is less space, energy, and capital intensive, providing a myriad of environmental and economic benefits.
Industrial Chemical Separations are Outdated
The chemical and energy industries produce products in mixtures.

To arrive at the final product, there needs to be a purification step to separate mixtures into components.

For example, in modern carbon capture, CO₂ is removed from flue gas, which is a mixture of  CO₂, nitrogen, sulfur oxides, and nitrogen oxides.

The chemical industry currently relies on distillation and absorption unit operations to make products and remove impurities.
Distillation

 is the process of separating liquid mixtures based on boiling point. Essentially, it uses heat to turn one molecule into vapor while the other stays a liquid.

Distillation is responsible for 

40% 

of greenhouse gas emissions in the chemical industry.

Adsorption

 involves some sort of adhesion medium in a column. While this can take many, many forms, for our purposes think of a column full of beads that attracts a molecule you want to remove. Adsorption requires a liquid wash or high temperature and pressure to then separate the molecule and the adsorbent.

The cost here is highly variable, as it depends on what/how one is separating the mixture.
Operating these processes at scale requires massive pieces of equipment, which means significant capital is required.

According to Osmoses, "15% of the world's energy and carbon output is wasted on inefficient chemical separations." The challenge, then, to solve is finding a better way to separate these chemical mixtures.
Osmoses has developed a novel polymer membrane that acts as a passive barrier to separate chemicals based on size, rather than boiling point or chemical charge.

For example, if there's a mixture of hydrogen and methane, the membrane would selectively allow hydrogen to go through while leaving methane behind, no heating or wash chemical needed. Osmoses' current membrane can effectively separate gas molecules between 2.9 and 4 angstroms, which covers the smallest gas molecules with some of the biggest markets, including hydrogen, methane, carbon dioxide, oxygen, and nitrogen.
Osmoses' Journey From Idea to Company
Osmoses is no stranger to accelerators. They have gone through several programs including NSF I-Corps, the MIT $100k (sounds like an ultramarathon, it is not, although I would totally sign up for that), the Activate Fellowship, and Cleantech Open. Each one provided the knowledge, connections, and tools to build the company piece by piece. Their current market strategy and business model has come from moving through each one of these programs, working with business, start-up, and finance leaders, and figuring out how to best bring their product to market.
Simply put, Osmoses is innovating outdated industrial processes. Francesco and Holden have been doing their due diligence in order to build a viable company from an MIT-based PhD project. They have a technology that meets an unmet market need, namely low cost, efficient gas separation that eschews the traditional resource and equipment intensive processes. If they can effectively scale and install their membranes, it would be a huge win for companies and the environment.
☕ CONSIDERING A WAY TO SUPPORT US?
Consider donating if you found this newsletter useful. These dollars are used to support The Impact and our writers as we continue to produce research and insights in the space.
✍️ WANT TO HELP US IMPROVE?
How would you feel if you could no longer receive The Impact?
Editors: Swarnav S Pujari, Stephanie Zulman Writers: Daniel Kriozere, John Docter

If you aren't absolutely thrilled with The Impact, reply and let us know why. Or you can unsubscribe from all updates by clicking here.

Copyright © The Impact 2021. All Rights Reserved || 19 Morris Ave, Bldg 128, Brooklyn NY 11205