🤔 A big series drops next week… If you've ever wondered how startups get funded by top climate tech VCs…well stay tuned as we dig deep into the minds of those VCs.
Defining ClimateTech investing
By Daniel Kriozere • is a Principal at C3, Tech Scout at For ClimateTech, and Venture Scout at Prithvi - and has an extensive network within the broader climate investment and startup community.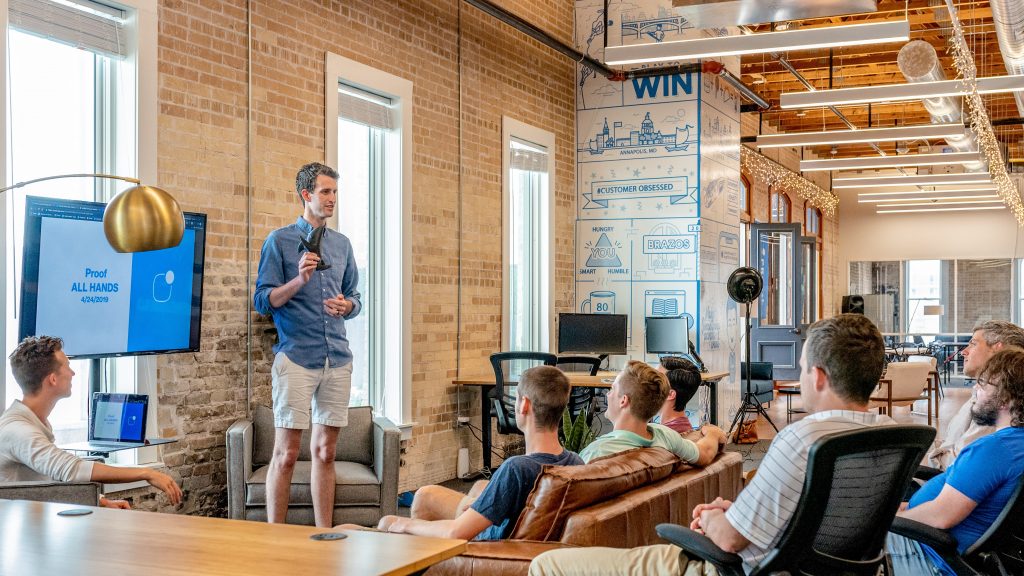 ClimateTech investments have been on the rise for the last half-decade, with over $60B invested into over 1200+ startups between 2013-2019. Valuations are exaggerated, deals are closing in a matter of days, and many startups are founded every day.

Over the last year, I have connected with over 250 investors in the space. Connecting with these investors has been very interesting, to say the least.

There are a few bins that I classify investors as:
Early-stage vs growth stage

Software vs hardware

Impact returns vs financial returns

Regardless of the classification of each investor, I thought it would be useful to define what early-stage investing in ClimateTech looks like.
Pre-seed rounds are typically the earliest investment into a startup prior to the company having developed a minimum viable product. These rounds are smaller than traditional seed rounds at lower valuations and are often used to help a company achieve certain intermediate milestones prior to strong product-market fit and customer traction.

Investors writing checks into pre-seed startups are typically angel investors, friends/family, and accelerators. Angel investors can consist of high-net-worth individuals, former founders, and current/former executives that typically align themselves within a niche or a mission. Angel investors can really be an asset to startups, operationally or strategically.

At this stage, investors are typically investing in the team, rather than the product itself. When evaluating the team, investors look at the founder-market fit, as well as the product-market fit.
Seed rounds are used to build an initial product and prove the business model. During this stage, it is common for a startup to demonstrate the technology and business via a pilot.

In addition to angel investors, institutional VCs and corporate VCs also make investments in the seed round. Traditional institutional VCs invest for financial returns and have the know-how to build strong teams for financial success. Meanwhile, Corporate VCs tend to have strategic objectives, which means that startups can leverage the corporate's resources.

At this stage, investors are investing in the team, the product, and the market opportunity. Assessing technology and business model risk is part of the picture.
Investments in climate look relatively similar to traditional investing, except for the fact that many of these startups that will truly make a climate impact are science/engineering heavy (hardware/process innovation). This means that investors financing climate needs to be riskier than traditional software/tech investing.
Sign up for The Impact and learn the perspectives behind the latest sustainability trends
Making climate-based business decisions a year in advance
By Jeff Macon • is the venture development manager for Fresno State's Water, Energy, and Technology (WET) Center.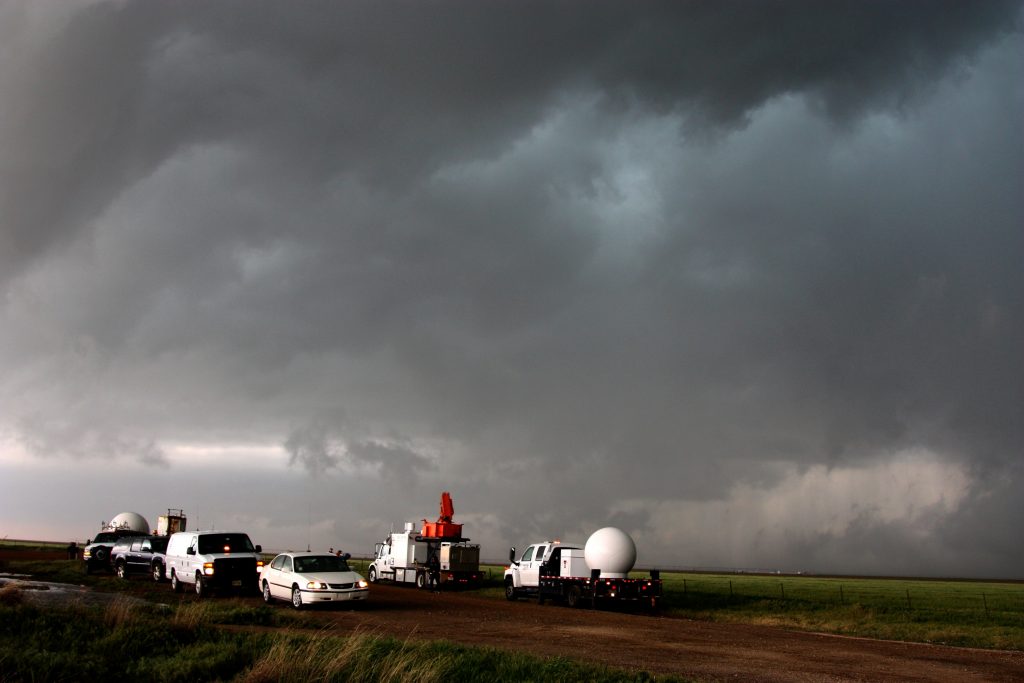 Predicting climate disasters in advance is needed more than ever. As floods in the East and fires in West take communities by storm, it is becoming increasingly more difficult and costly to endure and battle catastrophic climate events:
In 2021 (as of July 9), there have been eight weather/climate disaster events with losses exceeding $1 billion each to affect the United States. These events included one drought event, two flooding events, four severe storm events, and one winter storm event. Overall, these events resulted in the deaths of 331 people and had significant economic effects on the areas impacted. The 1980–2020 annual average is 7.1 events (CPI-adjusted); the annual average for the most recent 5 years (2016–2020) is 16.2 events (CPI-adjusted).
Climformatics' A.I. is used to accurately forecast climate for specific geographic locations up to two years in advance. Their Climformatics' insights could help farmers, insurers, businesses, and organizations make better strategic decisions on how to use their assets well in advance of catastrophic climate events such as heatwaves, droughts, and flooding. The improved decision-making could help us not only be more economically efficient but also help us better mitigate carbon, e.g. strategically deploying solutions to an area such as a power grid that would be hit by a catastrophic climate event and preparing solutions for it that minimize carbon contributions.

Dr. Bhattacharyya and Dr. Ivanova are women founders of Climformatics. They worked together at Lawrence Livermore National Lab (LLNL) and built their expertise in climate modeling working at the LLNL Program for Climate Model Diagnostics and Inter-comparison (PCMDI) and contributed to the IPCC climate change reports.
Climformatics' climate-forecasting AI has been tested in nearly 20% of California's zip codes over a number of years and the results showed over 70% accuracy. High and low temperatures as well as the amount of rainfall are well within their 'longer-term' climate predictions. Imagine having the accuracy of the two-week weather forecasts we currently rely on but instead have reliable forecasts of climate events to specific locations so far in advance.
The founders are positioning Climformatics to help farmers make better strategic decisions that result in improved food security, increased profitability, and improved management of climate catastrophes. However, other applications relating to insurance, water management, and public safety, for example, could also prove to be valuable markets.

Utility players are exposed to climate risk and they could use Climformatics' predictions to mitigate wildfires, model power-load generation, and estimate hydroelectric generation. Water agencies could predict freshwater from precipitation and snowmelt. (We could definitely use that in the Western U.S.) Large retailers could know when to ship more products for areas hit by a heatwave and they could better lay out logistics in an area that would be hit by floods. Insurance companies could use insights on wildfires to incentivize homeowners to retrofit homes to get discounts on premiums.

The founders will continue to work with the nonprofit Arctic Ice Project to provide modeling efforts on saving and restoring the Arctic sea ice. Climformatics is a collaborating member of the United Nations' Disaster Risk Resilience ARISE-US.
Climformatics has been approached by interested parties including a firm from Japan with offices in Washington, D.C., an investment bank in Hong Kong, as well as investors from Florida, Hawaii, and Illinois. Since women founders received less than three percent of the funds from venture capitalists (VCs) in 2019, perhaps Drs. Bhattacharyya and Ivanova can not only help farmers, businesses, and organizations make better strategic decisions with climate forecasts over one year out, they can also improve the investment trends for ventures led by women.
Climate Tech VCs may be missing out on compelling and under-invested Food & Ag opportunities
By Diane Cozian • is a Frenchy in San Francisco and ex-M&A investment banker on her climate journey to break into VC climate tech.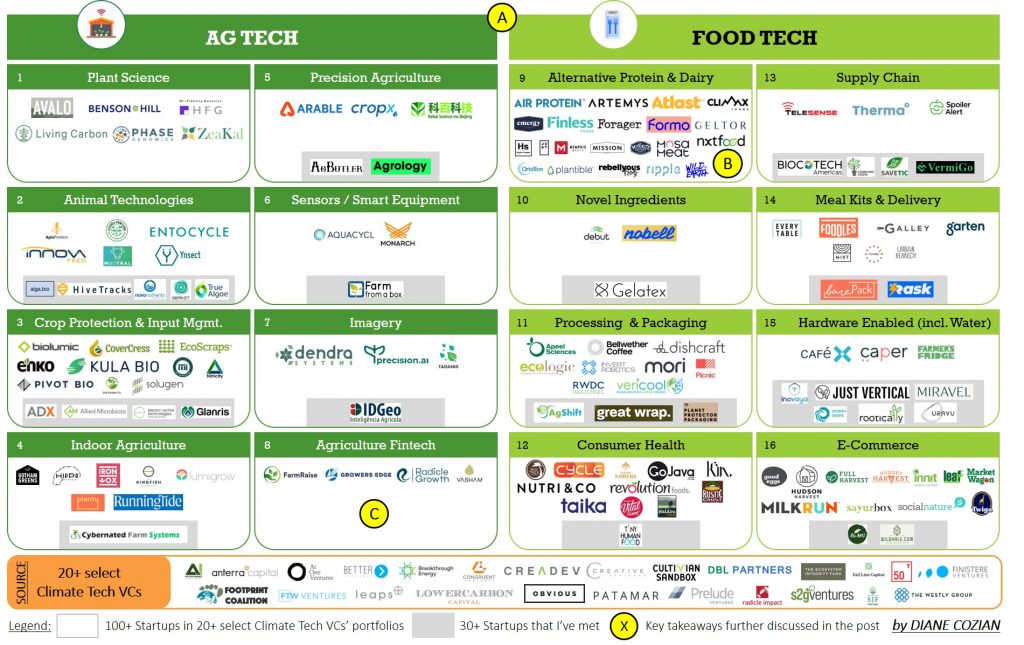 Climate tech venture capital dollars are going to 4 main sectors: Food & Agriculture, Energy Transition, Mobility & Urbanization, and Sustainable Systems.

After leaving my M&A investment banking job for a "higher purpose", I decided to volunteer on organic farms in New Zealand for a couple of months (which included milking 200 cows at 5 AM)! It was then that I educated myself on climate change, connected the dots and decided to shift my deal-making skills to VC climate tech.

In this process:
I met with 100+ climate tech startups in all 4 sectors including Food & Ag
I learned that Food & Ag represents approx. 25% of global greenhouse gas emissions
I then discovered 130+ climate tech startups in Food & Ag (100+ by going through the portfolio of 20+ climate tech VCs, and 30+ by having calls with startup founders). Taking a step back, I decided to map these startups to uncover why all climate tech VCs should heavily invest in Food & Ag and which segments are currently being under-invested in.
First, I based my market map using the classification of the 2020 Agrifood Tech Report by Finistere Ventures, a climate tech VC exclusively focused on Food & Ag which raised $150m in 2020.

This report divides the Food & Ag sector into 2 main categories (each composed of 8 segments):
Ag Tech:

 "how to produce food", technologies to increase farming efficiency and sustainability – Boxes from 1 to 8 on the map above

Food Tech:

 "how to process and deliver food", technologies to improve the supply chain and distribution to the end-consumer – Boxes from 9 to 16 on the map above

Then, I filled in all these 16 boxes/segments of Food & Ag with the 130+ startups that I discovered in my journey and which present the following profile:
Sources:

 websites of 20+ select climate tech VCs (100+ startups), 1:1 zoom calls with startup founders (30+ startups)

Sector:

 climate tech Food & Ag

Stage:

 mostly early-stage (pre-seed, seed, Series A)

Technologies:

 software; deeptech (concept defined in my previous LinkedIn post)

Location:

 from all around the world (mostly US; Europe, Latin America and Asia)
2. Key Takeaways: Topics for Discussion
Taking a further step back on the above map (see yellow bubbles), here are my 3 key takeaways for further discussion:


A. Some Climate Tech VCs are not currently active in Food & Ag (yet)
To the Climate Tech VCs (including CVCs) who have not invested in Food & Ag so far:


Given that Food & Ag is the 2nd most polluting sector on the planet (at approx. 25% of GHG emissions, on par with Energy Production), why not also invest in this "1/4" of the big problem to be part of the whole solution and make a stronger impact? Could there be ways of associating Energy or Industry 4.0 technologies within Food & Ag for win-win collaborations?



To the Climate Tech VCs (including institutional VCs) who have been active in Food & Ag in their previous fund but not in the current one:


If your current LPs are focused on other sectors of climate tech (incl. Energy and Transport), would you consider repositioning your next fund and welcoming a broader set of investors (including corporates and banks involved in Food & Ag)?



To the Climate Tech VCs who are currently active in Food & Ag:


Would you consider strengthening the focus of your next fund on Food & Ag (in terms of % of resources and investments allocated to this sector within the overall portfolio), given the scale and impact of such opportunities?
B. Climate Tech VCs have highly invested in Alternative Protein & Dairy but may be overlooking other scalable options
From the Map: Box 9 Alternative Protein & Dairy presents 21 VC-backed companies, when all other Boxes would present 11 or less. We need all hands on deck, so it doesn't have to be Option A or B (eating alternative protein or grass-fed beef)", but rather have Options A and B (…until Z and beyond!) all widely available and affordable for consumers, as these technologies would be "Faster, Cheaper, Cleaner". Other segments of Food & Ag using farm-grown methods should also attract VCs' attention, become highly-invested and reach 20+ companies: Box 2 Animal Technologies (incl. algae-based feed supplements to reduce cow methane), Box 3 Soil Input Management (incl. low run-off biofertilizers to reduce soil and river contamination), Box 7 Imagery (incl. satellite images for early detection of crop diseases), etc.


Alternative Protein & Dairy currently represents 2% of the global meat & dairy industry. Would you foresee a cultural risk in regions showing a strong "traditional / farm-grown / non-lab" approach to food, as a potential wall for scalability?


Regarding the food security question "Are we producing enough food for the growing global population?": 1/3 of the world's food is lost or wasted every year (extrapolating, we would be currently producing food for 7.9bn / (1 – 1/3) = 11.8bn people, which means enough until after 2100. So the urgent problem of our generation and the next ones wouldn't be to "produce more, more, more" but to "produce better and deliver it well" (more soil biodiversity, more nutrient-dense food, less run-off to rivers and oceans… and fewer roadblocks in the supply chain – due to economic or political reasons… but that's another debate).
C. Climate Tech VCs may be underestimating the catalytic potential of Agriculture Fintech
From the Map: Box 8 Agriculture Fintech presents 4 VC-backed companies, which provide farmers and growers with financial incentives, capital and risk management in order to improve the efficiency of their farming operations
Farmers usually need 3 years to transition from conventional to regenerative/organic farming and often lack the support of insurance and banking companies to back potential bad crops during this period (challenge experienced by the US farmer Gabe Brown in his amazing journey "Dirt to Soil"). This potential financial liability increases farmers' risk-aversion for such transition …


… There is a gap/opportunity here: could we make this financial liability an asset? Would there be some scalable fintech startups to bridge this financial gap, make such transition economically viable and ensure a long-term partnership with family-run farms? No kidding: these 500+ million family farms are the first and foremost link in our supply chain, as they produce 80% of our world's food today (!)?

There is a tremendous opportunity to further invest in Food & Ag, solve one of the world's biggest problems and have a net positive impact on our planet.
Writers: Swarnav S Pujari, Daniel Kriozere

If you aren't absolutely thrilled with The Impact, reply and let us know why. Or you can unsubscribe from all updates by clicking here.

Copyright ©  The Impact 2021. All Rights Reserved || 19 Morris Ave, Bldg 128, Brooklyn NY 11205