🤔 What are you excited about in the New Year… Only one more distribution from The Impact this year, so you might as well begin to share and think about your climate resolutions are.

We all know the one about going to the gym consistently probably won't stick…

Planting trees is hard work though…so you'll keep fit without needing that gym membership 🙃

– Swarnav S Pujari
Have You Flown On An ELECTRIC Plane Before • Ampaire
By Swarnav S Pujari • is the CEO at TouchLight and Appointed Chairman of the Yorktown Climate Smart Communities Task Force.
We've all gotten excited about electric vehicles thanks to Tesla. However, the "electrify everything" movement isn't just restricted to automobiles. I sat down with Kevin – one of the co-founders of Ampaire – to dig into how hybrid electric planes are the next stepping stone towards reaching that "electrify everything" goal we all are pushing towards.

In this interview we dive into how short range flights are the best initial target for decarbonization and how Ampaire is moving the ball forward to a future where planes can truly be electrified.

Check out and subscribe to our Youtube Channel for future episodes!
Sign up for The Impact and discover climate startups & opportunities before it hits the front page
How African Solar Addresses Energy Inequity
By Brian Corn • is a senior software technology veteran focused in the clean-tech space looking to help educate and elucidate others on the state of climate change and related solutions.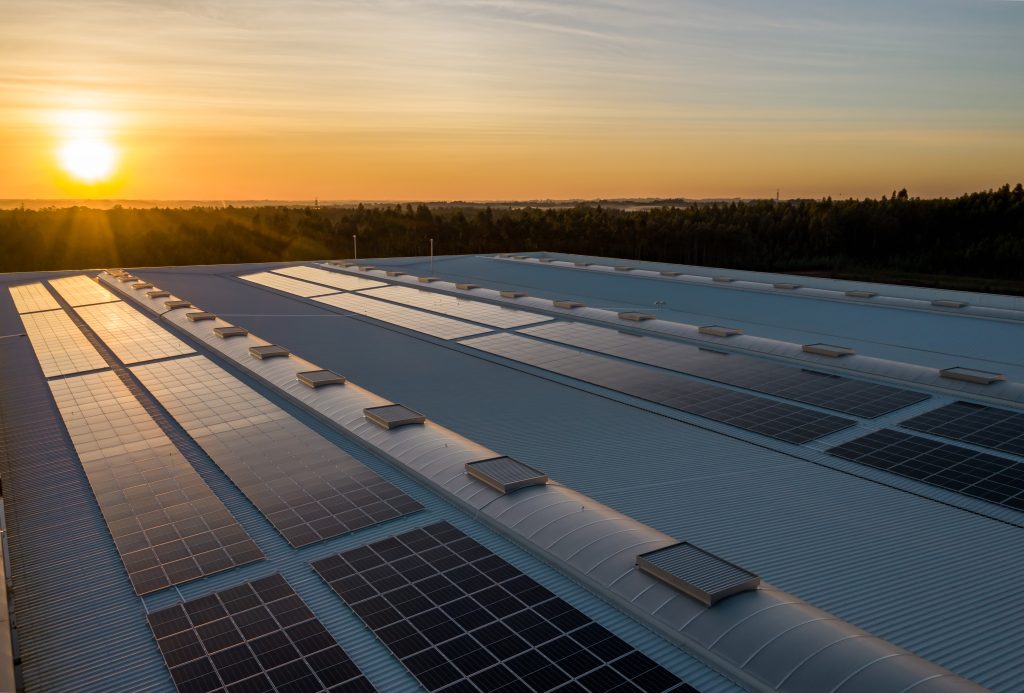 Community solar may not seem like an energy source with enough ground shaking force to make an impactful dent in the goal to reach net zero emissions. However, with scale comes strength. As of the end of Q2 2021, there was an estimated 3.4GW  of community solar installed and available in the US. While this only represents roughly 0.77% of America's energy consumption in 2020, that's enough stand-alone power to supply 600,000 homes.

For those unfamiliar, the U.S. Department of Energy defines community solar as "any solar project or purchasing program, within a geographic area, in which the benefits of a solar project flow to multiple customers such as individuals, businesses, nonprofits, and other groups. In most cases, customers are benefitting from energy generated by solar panels at an off-site array."

Essentially, having the wrong type of roof, a suboptimal azimuth, or a hundred-year-old oak tree shading the bulk of one's roof no longer prevents homeowners – or renters who have no home to benefit from local solar – from leveraging solar energy to offset coal and other carbon-intense fuel sources for electricity.

Talking with Sanjiv Sanghavi, former Chief Product Officer with Arcadia, regarding the current state of community solar, he believes the technology obstacles have been largely overcome for this form of renewables.

Sanghavi sees the current challenge as one of "dispersion" or distribution of these technologies. This requires successfully navigating a combination of policy shift, consumer education, financial infrastructure acumen, and regional differences. Community solar providers have largely broken down these barriers for the domestic market through utility bill credits, behind the scenes handling of billing integration, and pre-selling in appropriate markets. As a result, the drive to build sufficient community solar to power five million homes in the US by 2025 will address over 3% of current housing stock or 6% of homes ineligible for local solar.

What about the global impact of and need for community solar? What are the unique hurdles and what are the potential rewards? In this first article of this series, we're going to begin a deep dive into sub-Saharan Africa and the impact of community and off-grid solar. This is a part of the world in which current energy demands (350 kWh per person) are roughly one-tenth those of the worldwide average.
The Need to Address Energy Inequity
In sub-Saharan Africa, two-thirds of people persist without access to grid electricity. This represents more than half of the population of Africa and approximately 9% of the global population. Lack of grid access impacts quality of life, health, education and economic activities. Access to more reliable home refrigeration via off-grid solar products maintains the quality of medicines and over-the-counter health care items. Similar products can be used to provide extended lighting into the evening to allow children and adults to study and further their education and potential. Keep in mind that in those homes without grid access, the fuel comes from kerosene, candles, torches and even dung. This leads to additional health risks and contributes to GHG emissions. So, finding ways to provide increasingly clean and reliable energy has a holistic impact on the people in this region.
3 Key Off-Grid / Microgrid Solar Approaches
Unlike community solar in the US, which requires a grid connection to bestow its benefits, sub-Saharan Africa requires solutions that are independent of their highly unreliable electric grid. Community/microgrid solar and off-grid solar can help these countries most in need. It provides a pathway to true social justice in climate change as it helps to elevate both the quality of life and economic outcomes for these communities.

As it relates to dispersion tactics, there are three basic approaches in play that we will discuss in this series:


Foreign investment in African off-grid solar start-ups to support scale.

Not-for-profits creating clearinghouses for off-grid solar products for direct marketing to consumers.

Private African companies working to provide off-grid solar products directly to consumers within a specific country.

There is a more complex fourth option that involves foreign companies installing, owning and operating large-scale solar plants on behalf of utilities. Unfortunately, this option requires stable grid access, so it does not address the two-thirds of sub-Saharan Africa considered here.

For Africa to truly decarbonize their electric grid, it's going to require a rebuild with resilient, off-grid solar systems. Because their grid is still developing, we're currently in a unique time frame where there's enough of an open canvas left for foreign investments to leave a bright mark.
The Largest Venture Fund Focused On The Built Environment
By Daniel Kriozere • is a Principal at C3, Tech Scout at For ClimateTech, and Venture Scout at Prithvi - and has an extensive network within the broader climate investment and startup community.
Fifth Wall is the largest venture capital firm focused on the global real estate industry and property technology for the built world. Fifth Wall is investing in technologies to decarbonize the built environment. To do so, Fifth Wall connects many of the world's largest owners and operators of real estate with entrepreneurs. Fifth Wall believes that building a strategic corporate consortium can result in game-changing investments and collaborations.

Fund Snapshot

Stage: Series A – Series C

Check Size: $5M – 20M

Geography: Primarily North America but Global Scope

Lead/Follow: Lead
Why was the fund started?
Fifth Wall's climate fund was created to remedy the real estate industry carbon footprint, which accounts for 40% of the world's greenhouse gas emissions. Even if all technology in real estate and the built environment were updated with the most efficient and sophisticated technology, it would only reduce emissions from real estate from 40% to 20% of the world's global emissions. This is the challenge real estate stakeholders face when trying to decarbonize – they simply have no other feasible option. Fifth Wall wants to change this by identifying and supporting the next generation of technologies to decarbonize the $2-5T built environment opportunity. To achieve this, Fifth Wall will invest across all solutions, including software, hardware, deeptech, or CapEx heavy startups. Fifth Wall is building a consortium of corporates in the sector to bring them technologies that can decarbonize the space.
What domains in climate tech does Fifth Wall have the greatest expertise in?
Fifth Wall sees climate tech as two broad categories – energy and industrial technology.
Energy means focusing on clean and green energy going into buildings. Subsectors here include sources of generation (solar, wind, etc.), grid decarbonization, and grid resiliency.

Industrial technology entails making buildings clean and green. The different verticals here are materials, life of the building, and end of life. The main facts that support this part of the thesis are:

The construction industry uses 40% of the world's raw resources.

5% of all materials that are sent to construction sites get sent directly to landfill.

40% of materials in landfills are from construction.
What type of portfolio support does your team provide?
he way Fifth Wall is structured differentiates them as a fund and supporter to their portfolio companies.

Fifth Wall has a consortium of 70-80 of the world's developers and operators in the sector of which are all investors in Fifth Wall. As a result, these businesses have buy-in to the startups Fifth Wall invests in, which leads to a startups' success in finding and selling to customers.

In addition to access to corporates and customers, Fifth Wall provides support to a startups' capital stack. Fifth Wall can support startups from equity financing through to IPO, including debt financing. Half of the team at Fifth Wall, the capital markets team, supports startups with access to debt capital.
What is Fifth Wall's investment process and timeline?
Fifth Wall is focused on long-term relationships for investments. Due to their size and consortium of LPs, Fifth Wall knows about almost every startup that intersects with climate and the built environment. Typically, Fifth Wall knows about new startups within the first year of operations. Fifth Wall uses their knowledge, size, and network to help startups succeed – they will help make introductions that could lead to pilots and customers.

Fifth Wall's investment process can vary based on the relationship between a startup and Fifth Wall. If there is already a standing relationship, Fifth Wall can make investment decisions quickly. On the other hand, if, by any chance, there is no relationship by the time a startup approaches Fifth Wall for investment, Fifth Wall will make a quick decision to either pass or dig in deeper into diligence.
What would make Fifth Wall consider deviating from their typical criteria?
Fifth Wall asks two questions when evaluating startups:
Can the product sell?

Is the product good for the environment?
If the answer is yes to both questions, then Fifth Wall is open to digging in more, even if the round size is smaller than where Fifth Wall would normally invest. Fifth Wall is open to investing earlier on if the technology is innovative and if there is an opportunity.
☕ CONSIDERING A WAY TO SUPPORT US?
Consider donating if you found this newsletter useful. These dollars are used to support The Impact and our writers as we continue to produce research and insights in the space.
✍️ WANT TO HELP US IMPROVE?
How would you feel if you could no longer receive The Impact?
Editors: Stephanie Zulman, Swarnav S Pujari, Daniel Kriozere Writers: Brian Corn

If you aren't absolutely thrilled with The Impact, reply and let us know why. Or you can unsubscribe from all updates by clicking here.

Copyright © The Impact 2021. All Rights Reserved || 19 Morris Ave, Bldg 128, Brooklyn NY 11205