🤔 What if you could identify the top climate founders before they even started a company…This has been playing in my head for a bit now…I want to know the people who are the right people before they find the right team.
So y'all can invest, join or become a customer of these emerging companies…
Just a thought…
🌳 Biomass-Based Carbon Removal
A high-level look at how biomass can be converted to biochar or bio-oil for carbon removal, and influential factors at play
What matters with respect to the feedstock, process, and outputs with respect to biomass-based carbon removal.

💰 A Fund Identifying Top Climate Founders Before Product Market Fit
Wireframe Ventures is investing in pre-seed and seed-stage startups with a mission to improve the health of people and the planet.
Wireframe invests in the founders/team, and as such, Wireframe values relationships with founders.
Wireframe's capital is early, active, and patient.

🌿 An Alternative to Food Based Bio-Fuels
Hexas is working to develop a perennial grass – to provide regenerative biomaterials, sequester carbon, and clean water
With trials in California funded by the Department of Energy (DOE), Hexas is validating these benefits in the U.S. while continuing to sell in Europe
🌳 WASTE TO CARBON CREDITS 101
Biomass-Based Carbon Removal
By Christina Zhou • Christina is a sales operations & enablement interested in streamlining our path to a more sustainable future.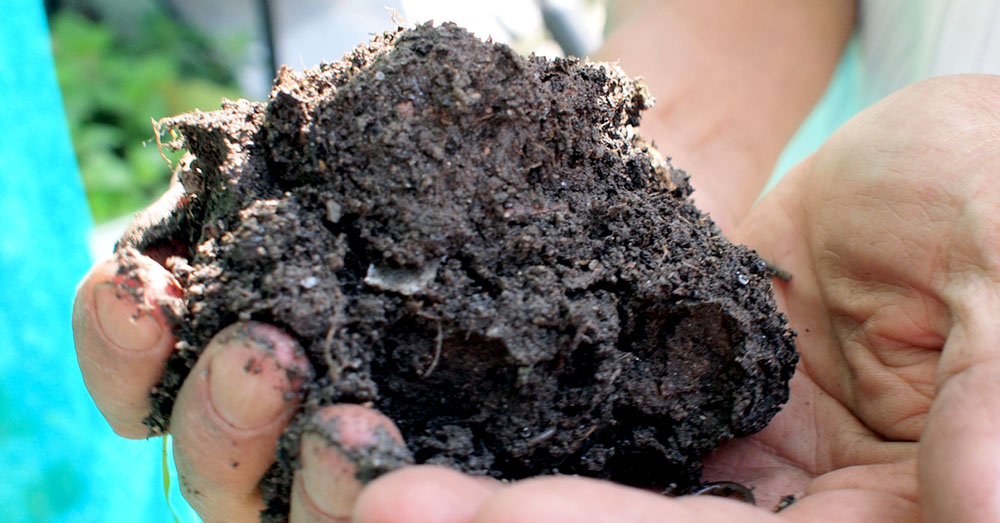 Carbon sequestration as a concept has captured the imagination (and invited criticism from skeptics) for some time now. Those words may invoke the highly engineered image of pulling CO2 out of the air and pumping it underground via direct air capture, or purchasing swaths of forests to store CO2 through the carbon cycle.

Here, we'll focus on biomass-based carbon removal. On a basic level, this means that biomass, typically waste biomass, is converted through some process into a more stable form. If this process did not occur, the biomass would produce CO2 over time either through decomposition, burning, or other processes, so converting it to this more stable form at least delays the conversion of organic matter to greenhouse gases.
On a high level, how does it work?
Waste biomass -> process (pyrolysis) -> CO2 removal by stabilizing biomass as biochar, bio-oil, etc.
Before diving into the impact of these technologies, let's walk through some principles for evaluating carbon offset projects in general. Some core concepts according to Carbon Direct are additionality, durability/permanence, leakage, reliability of accounting methods, and negative impacts/externalities ("do no harm"). You may encounter different terminology used to describe similar concepts.

Additionality: means that the carbon removal would not have occurred without the purchase of those credits. One example: if a credit for some portion of  forest was purchased, but it had already been preserved long before, is the purchase really resulting in additional impact?

Durability: How likely will the carbon be re-released into the atmosphere. For example, a forest in a zone that frequently experiences wildfires would be considered less durable than a forest in an area without that same risk. Permanence is another word that describes this attribute.

Leakage: This term simply means that the emissions haven't been displaced to another location. For example: if deforestation is prevented at one location, the demand for timber may result in deforestation occurring elsewhere.

Accounting methods: This primarily means 1) how the impact of the projects are quantified upfront and 2) how this impact is monitored over time. In particular, whether the quantification is repeatable, verifiable, and with known + conservative uncertainty estimates is critical. In addition to having stringent accounting methods, many platforms opt to have third party verification of carbon removal processes (here's an interview with Puro.earth and Energy Link Services, an auditor describing the auditing process)

Negative impacts: Hypothetical example of a negative impact: a carbon removal program that dramatically degrades air quality for nearby communities.
What is the impact of this technology?
So what is the promise of biochar or bio-oil based carbon removal from an impact perspective? The rosiest picture might look like the following scenario: Agricultural waste, which often would have otherwise been burned, is converted through pyrolysis to biochar. This results in negative emissions for hundreds of years while producing a soil additive that improves the drought and pest tolerance of plants. Not to mention the local air quality improvements in agricultural communities or a potential revenue stream for an otherwise troublesome waste product. This is a scenario that biochar advocates will promote, and at face value, seems almost too good to be true. So let's dig a bit deeper!

Let's start by considering the impact of this technology from a carbon removal perspective, with a focus on biochar production. Additionality is easier to prove for waste biomass, and one protocol requires that projects involve biomass that would've been burned, left to decompose, or landfilled for it to count as additional. For biochar production, about half the carbon embodied in biomass is emitted in the production process, while the other half that would have decomposed over a few decades is stabilized with a durability of hundreds of years. Leakage seems irrelevant in this scenario, as the processing of some waste biomass shouldn't displace the production of waste biomass elsewhere. As for accounting methods – this is also highly variable based on the degree to which carbon removal is the primary product offering for a given company. For a more in-depth look, here are the criteria that Microsoft and Carbon Direct use as criteria for carbon accounting, including a specific callout for biomass-based sources.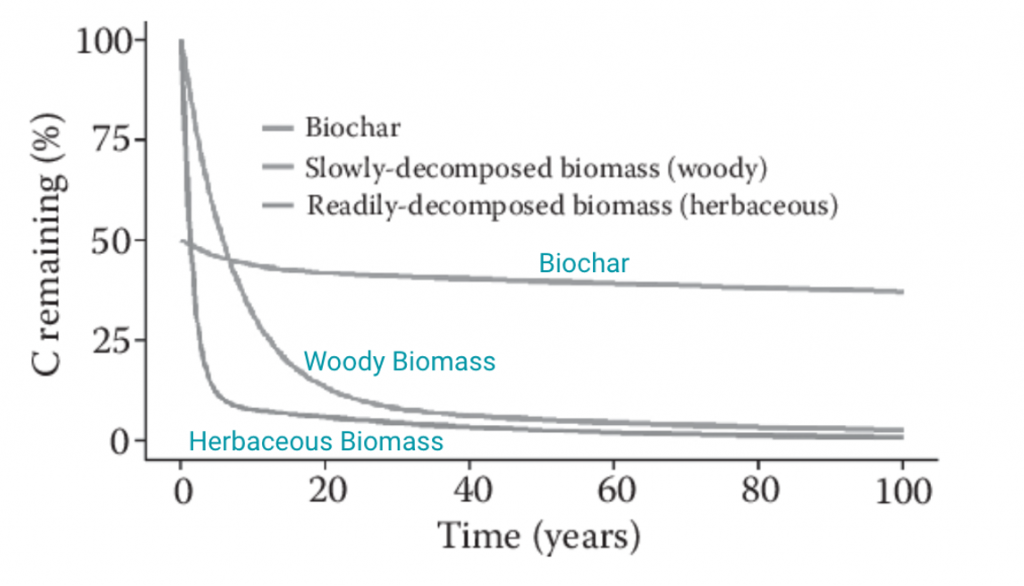 In terms of negative externalities with respect to biochar, a literature review from Brtnicky et al highlights potential negative side effects (impacts on earthworms, the fungi: bacteria balance in soils, and erosion/water retention properties depending on the soil type), and a general need to holistically consider how biochar might interact with a specific type of soil. There is also the possibility of particulate matter impacts from production or from soil application, which diminishes the potential benefit of avoiding crop burning. There is likely more to be learned on this front given the lack of large scale studies on biochar to date.

With that said, research suggests that biochar is generally beneficial for improving water retention, soil health, as well as removing pollutants. Biochar seems to be most effective in soils that are poor or contaminated, which has attracted (at least as of a few years ago) heightened interest from China as a tool to remediate soils, divert agricultural waste which would have been burned, and improve crop yields beyond what chemical fertilizers are capable of.

On the bio-oil front, if stored underground the durability can be on the order of thousands of years. There are potential applications for bio-oil conversion to hydrogen fuel/syngas that the startup Charm Industrial is exploring — these are still carbon negative, though the emissions reduction potential would be impacted by this additional processing.

Perhaps the most common criticism of carbon removal initiatives as a whole is that they distract us from known interventions to reduce our impact (e.g. electrification, renewable energy). Consequently, if carbon removal is to scale, it must do so with high-quality offsets, and without negatively impacting existing efforts.

In summary – technologies that convert waste biomass to biochar/bio-oil and remove carbon in the process may be incredibly compelling as a means to solve several environmental challenges at once. However, these technologies are not a monolith – variations in the feedstock, the processing, and the application (if applicable) of the end product can make a big difference in how impactful this is from a carbon removal perspective and beyond.

Next up – we'll explore how it works from a technology perspective. Lastly, we'll take a look at the business case and challenges associated with this space.

———
Many thanks to Katie Holligan from Charm Industrial, Kevin Kung from Takachar, and Tim Preisenhammer from Carbo Culture.
Sign up for The Impact and learn the perspectives behind the latest sustainability trends
A Fund Identifying Top Climate Founders Before Product Market Fit
By Daniel Kriozere • is a Principal at C3, Tech Scout at For ClimateTech, and Venture Scout at Prithvi - and has an extensive network within the broader climate investment and startup community.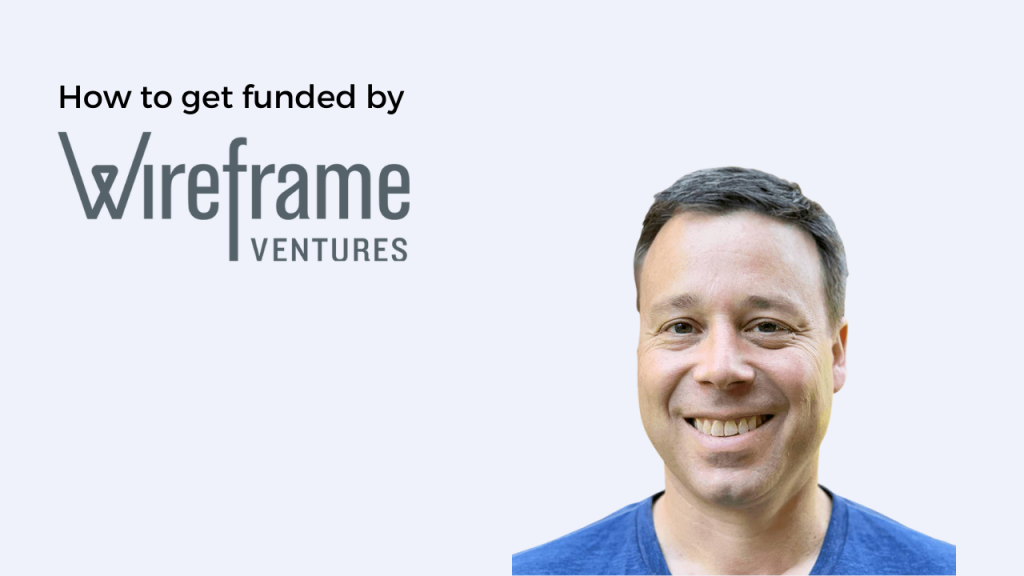 Wireframe Ventures is an early-stage fund investing in founders on a mission to improve the health of people and the planet. Wireframe Ventures likes to be the first check in pre-seed/seed-stage startups and work closely with founders from inception to success. Their capital is early, active, and patient.

Fund Snapshot
Stage: Pre-Seed, Seed
Check Size: $200K-1.5M
Geography: US, Canada, Europe
Lead/Follow: Lead and Follow
Revenue/Valuation Thresholds: No revenue is required
Why was the fund created?
Paul and Harsh started Wireframe Ventures in 2016 based on over a decade of experience at the time investing and operating in climate and health startups. Over the prior few years, there had been a cleantech crash and also an explosion of generalist seed funds.  Despite the urgent and enormous opportunity in climate and health, there was a lack of high-quality funding sources committed to supporting founders at the earliest stages. Paul and Harsh saw an opportunity to pair their deep domain experience and networks in these areas with a service-based approach to partnering with teams at the early, chaotic stages of company development.
What is Wireframe Venture's core belief?
Climate change is the biggest risk to human health on a global scale. As such, Wireframe's investment thesis is focused on human and planetary health. Both are intertwined at a societal level – people care so much about the climate because they also care about the wellbeing of 8 billion souls who call it home. Additionally, in many cases, the approach to building a startup in a regulated area, with channels to market, often a physical product that must be delivered, entrenched incumbents and sometimes significant capital requirements create similar challenges for startups in both areas. And at a specific level, some of the same tech stack, whether synthetic biology or computational biology is being applied to health, agriculture, new foods, or sustainable consumer and industrial materials.
What domains in climate tech does Wireframe Ventures have the greatest expertise in?
Paul has more than 15 years of experience investing in renewables, energy and climate while having been an active early-stage investor throughout the first cleantech wave. Harsh has over 20 years of experience as an entrepreneur and investor in climate, human health (genomics, personalized medicine, etc), and "deep-tech" areas.
Wireframe Ventures is technology agnostic but thematically focused. To date, Wireframe has invested in electrification of transportation, agriculture, sustainable consumer goods, circular economy, renewables, manufacturing, energy, computational biology and synthetic biology.
What type of portfolio support does your team provide?
Wireframe Ventures not only invests capital into startups they believe in, but they also get involved as an empathetic thought partner – Wireframe is flexible in whether it takes a board seat when investing because their relationship and primary engagement with teams are outside a formal board setting.

Wireframe wants to help early-stage founders with:
Company building – product, partnerships and "boring but important stuff"

Growing a team

Follow on funding

Networks of investors and potential customers
What are Wireframe Ventures' investment process and timeline?
For pre-seed investments, the process usually takes 1-3 weeks. At this stage, Wireframe views the investment in the individual(s), rather than the startup itself, especially as the startup is pre-product and pre-revenue. As such, Wireframe values relationships with founders and recommends that founders reach out to start building that relationship sooner, rather than later. A couple of the pieces Wireframe thinks about when vetting a team include leadership (charisma, confidence, EQ, etc), founder market fit, and business/commercial instincts.

Wireframe's process is about the same for seed-stage investments. The main thing that is different is that Wireframe assesses a team's product capability by digging into market validation and potential to achieve product-market fit with a seed round.
What would make Wireframe Ventures consider deviating from their typical criteria?
Wireframe reserves 10% of its fund for investments outside of their typical thematic and stage criteria. These investments are typically in teams they've previously backed (Tensil) or to invest in solutions where they have deep expertise but may be just past seed (LevelTen Energy).
An Alternative to Food Based Bio-Fuels
By Jeff Macon • is the venture development manager for Fresno State's Water, Energy, and Technology (WET) Center.

Quality farmland should be used for food production
The U.S. uses a lot of quality farmland to produce corn for both food and fuel. The issue Hexas is trying to ameliorate is that a lot of nutritious food output grown on quality farmland is also used for biofuel production in the form of ethanol. Instead of using corn, it would be more beneficial to use perennial grasses such as Xano Grass from marginal farmland as inputs for biofuels instead of crops.
Saving trees and making bad farmland productive again
Our overreliance on trees has led to deforestation, causing a number of issues such as climate change, desertification, soil erosion, flooding, and displacement of people, often indigenous. Additionally, marginal cropland is also a problem as it increases carbon emissions, soil erosion, and reduced nutrients.
Hexas (recently accepted into Valley Ventures Cohort 6) may stem negative externalities from both deforestation and the use of marginal cropland with the successful deployment of its biomass solution. This would be accomplished by converting marginal farmlands into quality farmland in about five years while providing biomass to be used for a number of applications instead of trees. Hexas has developed not only a biomass solution but a production process that allows its biomass to be dropped into existing manufacturing processes where wood and food biomass inputs are currently used.

Xano Grass is billed as a 'regenerative' biomaterial, meaning useful biomass is continually and increasingly harvested from its very fast and ever-growing perennial grass crop. This perennial grass can be used for a large variety of drop-in solutions for widely used products that currently increase carbon in our atmosphere.

Instead, Xano Grass could provide carbon mitigating solutions to these and potentially other products:

Renewable natural gas/biogas

Pulp and paper

Animal bedding

Packaging

Textiles
Carbon sequestration with a perennial grass
Hexas measures its impact on sustainability. In terms of carbon sequestration, the company's grass, on average, sequesters 13.2 metric tons of carbon per acre per year, above and below ground. This is much more than no-till farming of corn that sequesters 0.3 metric tons of carbon per acre per year.

Other sustainability metrics resulting from this perennial grass are hard to measure, for example:
Improving soil through nitrogen

Preventing soil loss and erosion

Increasing aeration for roots

Determining the amount of reduced deforestation
Hexas has generated interest from a number of industry players because the company provides a reliable and consistent supply of plant-based raw materials that are used in multiple applications in a conversion-ready, drop-in format. Currently, the company's sales in Europe are validating its business model.

The headline on Hexas' website reads:
Farm-to-Fiber™ plant-based materials replace wood, corn, and fossil fuel-based raw materials with our proprietary plant-based solutions
Based in Olympia, WA, Hexas' CEO
Wendy Owens
 sells their Xano Grass™ 'regenerative' biomaterial inputs in Europe and is testing Xano Fiber's efficacy in California with support from the 
Department of Energy (DOE)
.
Based on interest from a couple large, international furniture producers as well as the Department of Energy's support of testing Hexas' Xano Grass biomass for clean energy in California, there may be more options at our disposal to improve marginal farmlands, reduce deforestation, and meet our climate-mitigation efforts.

If Wendy Owens is able to successfully lead Hexas into the U.S. market with its Xano Grass, we may leave a lot more trees standing, use corn for food and not fuel, and keep fossil fuel in the ground.
☕ CONSIDERING A WAY TO SUPPORT US?
Consider donating if you found this newsletter useful. These dollars are used to support The Impact and our writers as we continue to produce research and insights in the space.
✍️ WANT TO HELP US IMPROVE?
How would you feel if you could no longer receive The Impact?
Editors: Swarnav S Pujari, Daniel Kriozere Writers: Jeff Macon, Christina Zhou

If you aren't absolutely thrilled with The Impact, reply and let us know why. Or you can unsubscribe from all updates by clicking here.

Copyright ©  The Impact 2021. All Rights Reserved || 19 Morris Ave, Bldg 128, Brooklyn NY 11205